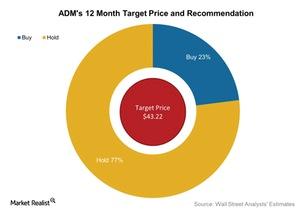 What Are Analysts' Target Prices before ADM's 2Q16 Results?
Target prices
As on July 25, Archer Daniels Midland's (ADM) ratings and target prices from Wall Street analysts changed slightly since we discussed the acquisition of a Casablanca, Morocco-based corn wet mill. Read ADM Acquires Moroccan Sweetener Facility: How Will It Benefit? to learn more.
Around 77% of the analysts rate Archer Daniels Midland a "hold" and 23% gave it a "buy" rating. No analysts rated it as a "sell." The average target price for Archer Daniels Midland increased to $43.22 from $41.56. This demonstrates that Archer Daniels Midland already beat the target price estimate by ~1% as of July 25. It closed at $43.60.
Below are the target prices and return potentials for Archer Daniels Midland's peers in the industry.
Bunge (BG) has a target price of $71.91 and return potential of 14.6%.
Ingredion (INGR) has a target price of $125.33 and return potential of 5.9%.
B&G Foods (BGS) has a target price of $43.38 and return potential of 8.1%.
The PowerShares Dynamic Large Value (PWV) and the SPDR S&P Dividend ETF (SDY) invest 1.5% and 1.3% of their portfolio in Archer Daniels Midland.
Article continues below advertisement
Analysts' recommendations
As of July 25, BMO Capital Markets and Macquarie are consistent with their "strong buy" rating for Archer Daniels Midland. They have the highest target price of $48 and $45. This is 10% and 3% higher than the closing price of $43.60 on July 25. On May 26, Citigroup upgraded Archer Daniels Midland from "neutral" to "buy" with a target price of $50—a potential rise of 14%. Citigroup stated in a report that "Global agricultural markets have rapidly swung in favor of ADM's operations over the course of the past 6-8 weeks, which has prompted us to increase our earnings outlook."