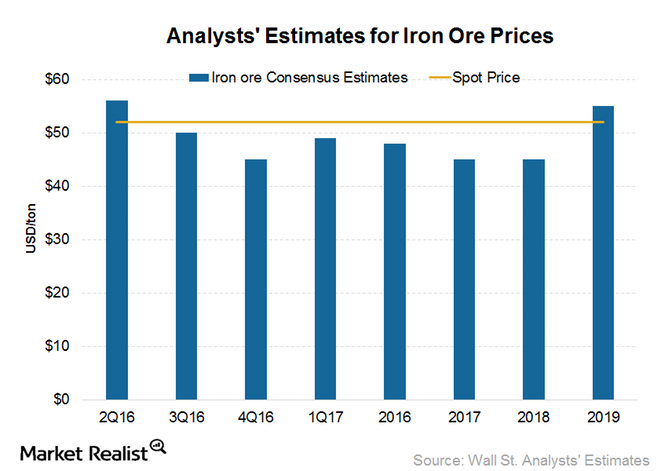 What Analysts Have to Say about Iron Ore Prices
Long-term consensus is bearish
Analysts have increased their short-term iron ore price forecasts due to stronger-than-expected temporary factors. However, many on Wall Street are convinced of the rally's longevity. The Bloomberg median iron ore price forecast is $45 per ton for both 2017 and 2018.
Article continues below advertisement
Article continues below advertisement
Morgan Stanley and Clarkson
Morgan Stanley has become slightly bullish on the iron ore price outlook. The bank said that miners such as Rio Tinto (RIO) and BHP Billiton (BHP) (BBL) are adjusting their new supplies to accommodate weaker demand conditions. According to Morgan Stanley analysts, "A reasonable trading range for the ore price during March to September is $45 to $55 a ton."
Clarkson analysts, on the other hand, warned that iron ore's price strength could be short-lived. They believe that prices in the second half of 2016 will be lower than in the first half. Bloomberg reported, "The bank attributed the commodity's bounce over the first half of the year to lower-than-expected supply as well as Chinese stimulus."
Macquarie and Goldman Sachs
Macquarie also seems to be concerned about iron ore's price outstripping fundamentals. The company maintained that continuous additions from miners, increasing inventories at Chinese ports, and the not-so-bright outlook for steel demand could lead to pressure on iron ore prices.
Investors should note that Goldman Sachs (GS) is also of the view that the longevity of iron ore's price strength is questionable. The company noted, "It would take a significant deterioration in the growth outlook for the Chinese government to start another round of stimulus, especially after the recent credit injection."
In the absence of this deterioration, there may not be a significant uplift on the demand side. This would be a negative for miners (GCC) such as Vale SA (VALE) and Cliffs Natural Resources (CLF).