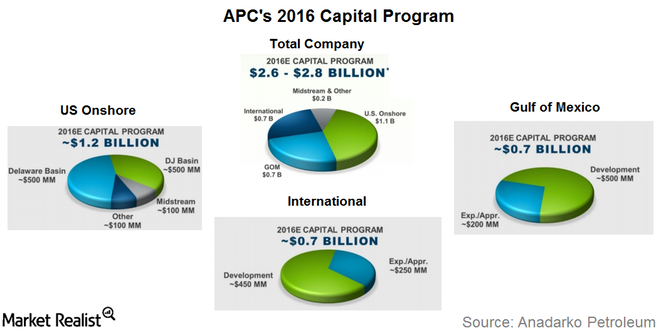 What Are Anadarko's Capex Plans in 2016?
Anadarko's capital allocation
Anadarko Petroleum's (APC) 2016 capex (capital expenditure) budget is $2.6 billion–$2.8 billion. That's a 50% reduction from $5.4 billion in 2015.
Article continues below advertisement
Anadarko's US onshore capex
As we've already seen, Anadarko will allocate higher capital to its short-cycle projects, which are mostly US onshore operations. Its midcycle and long-term projects, which are mostly international, have been allocated 40% of its capex in 2016.
Anadarko's DJ Basin operations mostly come under short-cycle assets. Its Delaware operations come under midcycle assets. Of the $1.2 billion that Anadarko plans to spend on US onshore operations, the Delaware Basin and the DJ Basin will be allocated $500 million each.
Other top players in the DJ Basin include Noble Energy (NBL) and PDC Energy (PDCE). Top players in the Delaware Basin include Cimarex Energy (XEC) and EP Energy (EPE).
Anadarko's capex plans for its Gulf of Mexico operations
Anadarko's 2016 Gulf of Mexico capex program will focus on its tieback oil opportunities. The company considers them "comparable on a return basis" to its DJ Basin and Delaware Basin assets and "superior in terms of our production profile." APC plans to spend $0.7 billion on its Gulf of Mexico operations in 2016.
APC's capex plans for its international operations
In 2016, Anadarko plans to advance its efforts toward potential development for its offshore Paon oil discovery on the Ivory Coast. In offshore Ghana, APC is on track to achieve the first oil at the TEN (Tweneboa, Enyenra, and Ntomme) complex this year.
In Mozambique, Anadarko expects minimal funding in 2016. It will be working through its legal and contractual framework, its off-take agreements, and its project financing toward a final investment decision for its LNG (liquefied natural gas) project.
Next, let's see how we can gauge Anadarko's debt position.