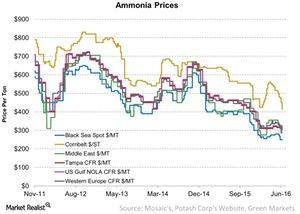 Why Do Ammonia Prices Keep Falling?
By Adam Jones

Updated
Why ammonia prices are important
Ammonia is a feedstock to other nitrogen fertilizers such as urea, UAN (urea ammonium nitrate), and phosphate products such as DAP (diammonium phosphate) and MAP (monoammonium phosphate).
So ammonia prices act as a precursor to the prices of other key fertilizers. Ammonia prices for the week ended June 1, 2016, continued to fall across most markets.
Article continues below advertisement
Prices in North America
Ammonia prices in the Southern Plains of North America had the steepest fall last week, continuing the previous week's trend. Prices fell 10.5%, from an average price of $380 per short ton ($344.70 per metric ton) to $340 per short ton ($308 per metric ton).
Ammonia weekly average prices at Tampa Bay fell 7.8% to $285 per metric ton from $309 per metric ton. Prices in the Corn Belt also fell to a weekly average of $443 per short ton ($401 per metric ton) from $470 per short ton ($426 per metric ton).
These falls negatively impacted nitrogen producers (XLB) such as Agrium (AGU), Terra Nitrogen (TNH), CVR Partners (UAN), and PotashCorp (POT).
International prices
Ammonia prices in the Black Sea remained unchanged from the previous week at an average of $250 per metric ton. In Western Europe, ammonia prices stood at $310 per metric ton CFR (cost and freight), which also remained unchanged from the previous week.
Prices in the Middle East stood at $320 per metric ton FOB (free on board), a 1.5% decline from $325 in the previous week.
Rising natural gas prices continue to weigh on ammonia prices, which we'll cover later in this series. Next, let's see how urea prices moved last week.