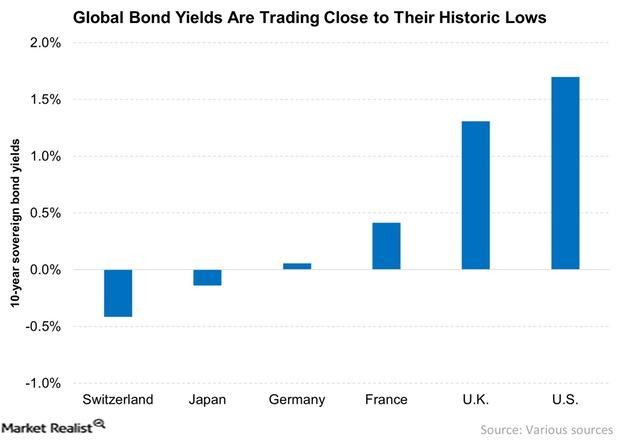 Yield-O-Philes Face a Difficult Challenge
By Russ Koesterich, CFA

Jun. 22 2016, Published 3:25 p.m. ET
Investors searching for yield face a difficult challenge: Income sources are becoming more and more expensive. Russ addresses the quandary.
Price is often a function of circumstances. Just ask anyone who has ever arrived at their hotel at 1:00 a.m. and paid $6 for a candy bar from the minibar.
Investors appear to be adopting a similar approach when it comes to stocks, particularly those with a healthy dividend yield. With bonds, the traditional income source, providing little actual income, investors are increasingly willing to pay a premium for any alternative. The question now is: how much is too much?
Article continues below advertisement
Market Realist – Global sovereign yields at very low levels
The graph above shows the June 21 yields on global sovereign bonds, which are considered to be "safe havens." As you can see, these bonds are trading at very low levels, while ten-year Swiss and Japanese bonds are trading at negative levels. This means investors are paying interest to park their funds in these bonds! Meanwhile, ten-year German bonds are barely trading at positive levels. Ten-year Treasuries (IEF)(TLH) are trading at a relatively attractive level of 1.6%, despite being close to an all-time low.
The slowing global growth and accommodative monetary policies in major nations are the main reasons for ultra-low yields. Fears of the "Brexit" caused yields to fall further a week back, but recent polls suggest that Britain is likely to stay in the European Union (EZU). This nudged global bond yields back up a bit.
Nevertheless, yields remain at unattractive levels. This has caused yield-thirsty investors to flock to high-dividend-yielding stocks (DVY)(IDV) in search of income, driving their valuations higher. This series will explore whether higher yields warrant higher costs.