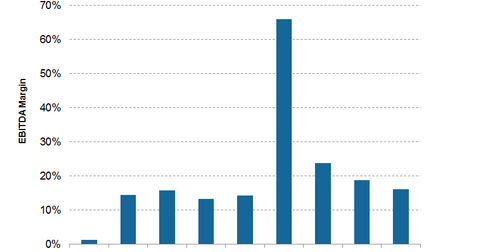 Will United Continental Margins Improve in 2016?
By Ally Schmidt

Updated
Analyst estimates
For 2Q16, analysts are expecting United Continental's (UAL) EBITDA (earnings before interest, tax, depreciation, and amortization) to increase by 2% to $1.9 billion. EBITDA growth is then expected to slow down for the rest of the year.
UAL's EBITDA is expected to decline by 7% in 3Q16 and 10% in 4Q16, resulting in a full year degrowth of ~5%.
EBITDA margins are expected to improve to 20.7% in 2Q16 compared to 19% in 1Q15. United Continental's margins, however, are expected to decline for the remaining two quarters. For 2016, analysts are expecting UAL's EBITDA margin to decline to 18% compared to 20% in 2015.
Article continues below advertisement
Cost discipline won't help
United Continental's (UAL) 2015 margin expansion was due to the company's meticulous cost management effort. For 2015, UAL's unit costs, excluding fuel, declined by 0.7%.
However, for 2Q16, UAL expects cost per available seat mile to increase by 2.5%–3.5%. For 2016, costs are expected to increase 2%–3%. This is one of the factors adding to pressure on margins.
No more relief from fuel
Fuel expenses also declined by 36% in 2015, which helped UAL improve its margins. Fuel prices will also provide some relief in 2016. UAL expects fuel cost per gallon to decline to $1.40–$1.45 in 2016 compared to $2 in 2015.
However, investors should remember that it's only a matter of time before fuel prices rebound as important economic production starts falling. This will further adversely impact margins.
Delta Air Lines (DAL) is one of the few airlines expected to see significant margin expansion in 2016, mainly due to lower hedging losses. Margin expansion for other airlines such as American Airlines (AAL) and Alaska Air (ALK) is also expected to be limited since these airlines benefited the most from lower fuel prices in 2015.
However, if crude oil prices fall further, analysts may revise their EBITDA and margin estimates upward. UAL forms 2.2% of the PowerShares Dynamic Market ETF (PWC).