What's behind Valeant's Operating Expenses?
Valeant's major operating expenses include cost of sales, SG&A (selling, general, and administrative) expenses, and R&D (research and development) costs.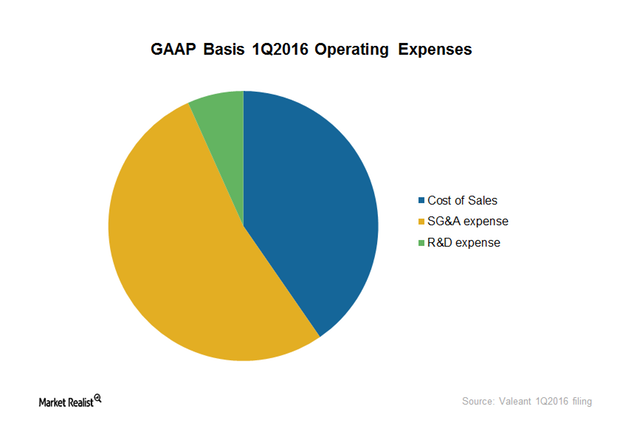 Valeant's operating expenses
Valeant Pharmaceuticals International's (VRX) non-GAAP (generally accepted accounting principles) operating margin declined to 39% in 1Q16 from 49% in 1Q15. Major operating expenses for the company include cost of sales, SG&A (selling, general, and administrative) expenses, and R&D (research and development) costs.
Article continues below advertisement
Article continues below advertisement
SG&A expenses
SG&A expenses for 1Q16 were $813 million. SG&A forms the largest component of the company's total operating expenses. Non-GAAP SG&A as a percentage of revenue increased to 31% in 1Q16. The increase can be attributed to a lower revenue base, increased promotional and advertising expenses, and employee retention efforts.
Gross margin
Valeant's adjusted gross margin for its Developed Markets and Emerging Markets segments were 79% and 55%, respectively, in 1Q16. The decline in gross margin for Emerging Markets was driven by adverse forex (foreign exchange) in countries where purchasing or manufacturing and sales were in different currencies.
The total adjusted cost of sales increased by 3% to $620 million. Lower sales of high-margin dermatology products, acquired low-margin products from Provenge and Amoun, and adverse forex contributed to squeezed gross margins.
R&D
R&D expenses increased to $103 million in 1Q16. Valeant's dermatology portfolio development programs along with brodalumab spending resulted in higher expenses. The company has about 91 products in its development portfolio. Of those, 61 products are in late-stage development.
Valeant anticipates launching 20 new products in fiscal 2016. Its success rate is significantly higher than the industry's. When compared with the number of NMEs (new molecular entities) per billion spent by Allergan (AGN), Gilead Sciences (GILD), and GlaxoSmithKline (GSK), Valeant has the highest productivity with ~3 molecules per billion dollars of R&D.
To avoid the direct risk associated with Valeant stock, you can choose to invest in the VanEck Vectors Pharmaceutical ETF (PPH). Valeant accounts for 1.5% of PPH's total holdings.
Let's see next what analysts are projecting for Valeant Pharmaceuticals.