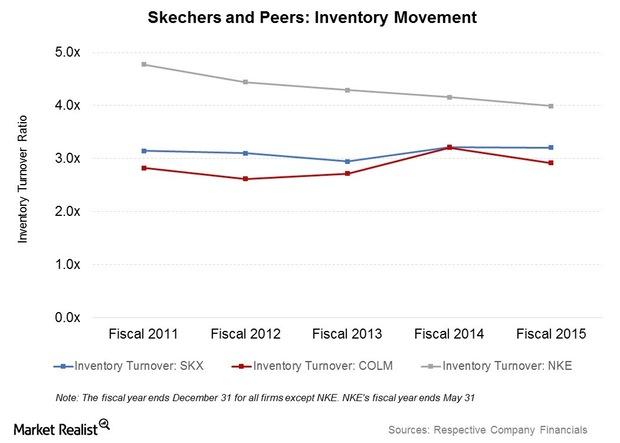 How Does Skechers Manage Its Inventory and Distribution?
Skechers' global distribution centers
As discussed earlier, Skechers (SKX) uses domestic wholesale, international wholesale, and company-owned retail and e-commerce channels to distribute its product both in the United States and overseas.
To that end, Skechers distributes products in the US market through its own distribution center in California. The company also has a distribution center in Belgium. SKX is in the process of expanding its Belgium center to one million square feet by the end of 2Q16.
The company is also planning to automate the center to enable ease of distribution and smooth the supply chain. We'll discuss these investments in greater detail later in the series. Skechers also distributes its product via third-party distribution centers in other international markets.
Article continues below advertisement
Article continues below advertisement
Inventory management
In recent years, Skechers has reported improved working capital metrics. The company's inventory turnover (or ITR) rose from 2.9x in 2013 to 3.2x in 2015. While the company's inventory has grown (IWP) to keep pace with its sales (FXD) volumes, so has its inventory turnover ratio.
Part of SKX's higher turnover ratio has resulted from a higher sell-through of its product. Skechers' product popularity has enabled it to charge higher prices and sell at higher volumes in the United States and abroad.
That being said, Skechers' ITR trails its rival Nike's (NKE) by a wide margin. Nike reported an ITR of 4.0x in fiscal 2015. Skechers' ITR is also lower than smaller rival Deckers Outdoors (DECK), which reported an ITR of 3.8x in its last fiscal year.