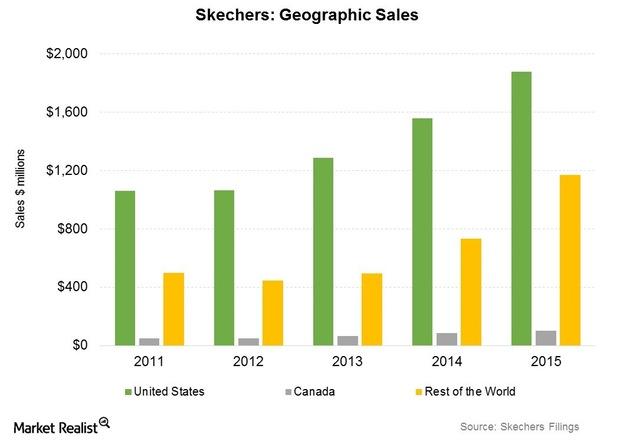 Skechers' China Sales Rise: What's the Growth Outlook?
Skechers' historical performance and outlook in Greater China
China has been an important element in Skechers' (SKX) success in international markets. Sales from China rose to $220 million in 2015 from $86 million in 2014. Skechers has over 1,300 points of sale in China.
Article continues below advertisement
A growing market
China's (FXI) growing sports participation and rising incomes are fueling a boom in fitness pursuits. Activewear and athletic footwear companies, including Skechers' competitors Nike (NKE), Under Armour (UA), ASICS (ASCCF), Puma (PMMAF), and Adidas (ADDYY), have also reported seeing strong traction in the Chinese market.
Nike grew (IWF) its Greater China sales by 17.9% in reported terms and 19% in currency-neutral terms to $3.1 billion in fiscal 2015 ended May 31, 2015.
Adidas grew its Greater China sales by 38% in reported terms and 18% in currency-neutral terms to almost 2.5 billion euros in 2015.
Under Armour reported triple-digit growth in the Chinese market in 2015 on its aggressive expansion of its number of doors in the region.
Puma (PMMAF) (PPRUF) (PPRUY) reported a 21.7% rise in its Mainland China sales in 2015.
Growth outlook
This year, Skechers expects to open 20–25 company-owned retail outlets in China, but that's just a small part of its retail story in 2016 and beyond.
In 2015, Skechers invested about $17.4 million on new corporate offices for its joint venture in China. The company is in the process of converting its existing wholesale doors to a franchise format. Skechers expects the amount of its franchise stores in China to rise, eclipsing growth of its company-owned retail stores.
The company is projecting mid to high double-digit growth in China in 2016, which could take its 2016 sales to the range of $350 million–$440 million.[1. Based on comments by Skechers' chief financial officer and chief operating officer David Weinberg].