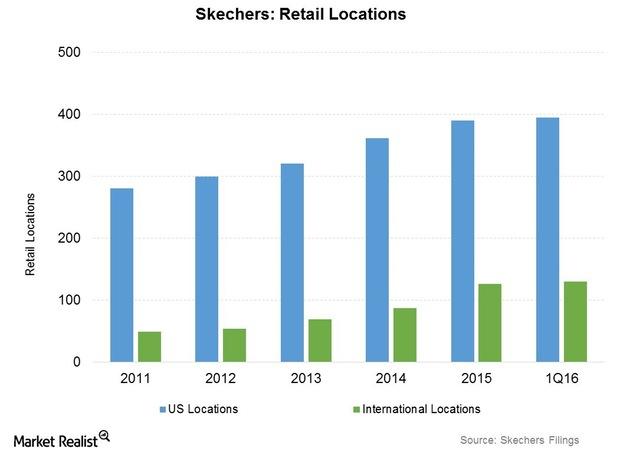 Skechers: Achieving Growth through Diverse Product Development
Analyzing Skechers' diverse product portfolio
Skechers (SKX) has continually designed, developed, and launched new brands and product lines. Since the launch of its first line, Skechers USA Sports Utility footwear, in 1992, the company has diversified into several new lines, targeting different segments of the population and different activities.
Unlike other sports gear companies such as Nike (NKE), Under Armour (UA), Puma (PMMAF) (PPRUF), and Adidas (ADDYY), SKX also sells footwear designed for non-athletic pursuits, including casual shoes and work footwear.
The company was ranked as the number one brand for casual and work footwear in 2015 in the United States. Currently, the company's most popular lines include the Skechers GOwalk, Skechers GOrun, and Skechers Sport collections.
Skechers' footwear lines include:
Lifestyle brands
Performance brands
Skechers Kids
Skechers Work
Article continues below advertisement
Article continues below advertisement
SKX develops and markets different footwear products under each of these lines. Lifestyle brands include casual sneakers as well as casual and dress footwear for both men and women. They are marketed under the Skechers USA, Skechers Sport, BOBS from Skechers, Skechers Active, Skechers Sport Active, and Mark Nason brands.
Performance brands are designed to meet the needs of more athletic-oriented customers. These brands include the popular Skechers GOwalk, GOrun, and GOtrain brands. The company has recently introduced the GOgolf line of footwear, tailored for golf. The line is endorsed by professional golfer Matt Kuchar.
Skechers Kids includes numerous lines designed specifically for kids, including infants, toddlers, boys, and girls. The lines include both trainers and casual footwear. Popular brands under the line include Skechers Kids, Twinkle Toes, and Skech-Air.
Reaching customers
SKX sells its products through various distribution channels, including its own stores (VCR), other sporting goods retailers (FXD) (IYK), and other specialty retailers. Later in this series, we'll discuss this in greater detail.
The company also employs several marketing campaigns via different forms of media to reach a targeted and diverse demographic. Let's discuss this in the next article.