Is the Rebound in Global Markets Sustainable?
The SPDR Euro STOXX 50 ETF (FEZ) rose by 2.6%. The United Kingdom's (FKU) FTSE 100 was among the leaders in European markets. It rose by 2.6%.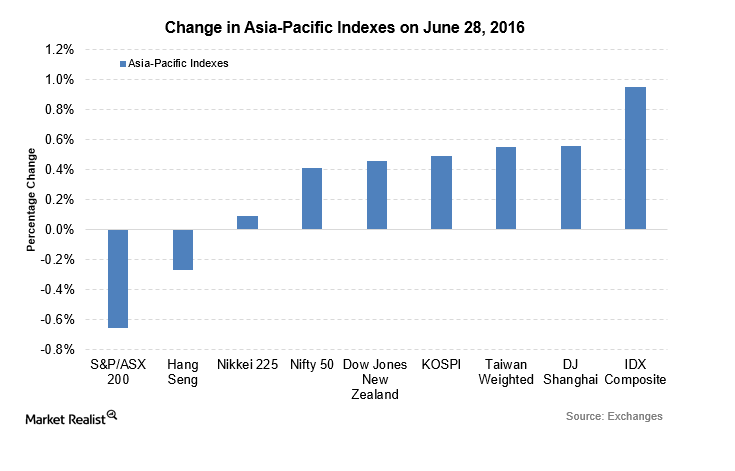 US markets finally see a green light
On June 28, the S&P 500 Index (SPY) rose by 1.8% and the NASDAQ Composite Index (IXIC) rose by 2.1%. The rise was primarily due to the strong US data release and markets slowly digesting the Brexit vote. Consumer confidence data were above the forecast, as we discussed in Part 1 of the series. However, market dynamics have changed since the poll was conducted. The poll was conducted before the referendum. Markets' confidence has been on a negative spiral since the referendum.
The Dow Jones Industrial Average also rose by 1.6%, while the S&P 500 VIX fell by 21.4%.
Article continues below advertisement
Article continues below advertisement
Asian indexes are broadly positive
Critical Asian indexes (AAXJ) were mostly trading with a positive bias on June 28, 2016. The VanEck Vectors Indonesia Index (IDX) led the gains in Asian markets. It rose by 0.95%.
Oceania indexes were trading on a mixed note. The Australian S&P/ASX 200 fell by 0.66% and the Dow Jones New Zealand Index rose by 0.46%. The fall in the Australian index was partly due to the strengthening of the Australian dollar.
Is the trend reversing?
Major European indexes were trading higher on June 28 as buyers returned to the market as risk aversion receded. Major indexes such as the German DAX and French CAC were trading 1.9% and 2.6% higher, respectively. The Deutsche X-trackers MSCI Europe Hedged Equity ETF (DBEU) rose by 2.5%. It followed a similar trajectory to the European markets.