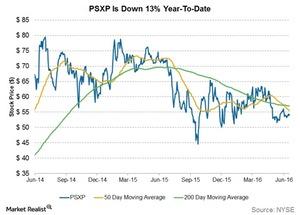 Why PSXP Is Underperforming the MLP Sector in 2016
By Rekha Khandelwal, CFA

Jun. 29 2016, Updated 3:31 p.m. ET
PSXP's year-to-date fall
Phillips 66 Partners (PSXP) has fallen by 13% so far in 2016. In comparison, Valero Energy Partners (VLP), Delek Logistics Partners (DKL), and Tesoro Logistics (TLLP) have fallen by 12%, 27%, and 4%, respectively, during the same timeframe.
On the other hand, the Alerian MLP ETF (AMLP) has risen by nearly 5% in 2016. In this way, PSXP and its peers have underperformed the MLP sector so far in 2016.
In this series, we'll analyze the reasons for this underperformance. We'll also analyze PSXP's key financial and operational metrics in depth. Finally, we'll look at PSXP's valuations compared to its peers', and we'll discuss how attractive the stock is.
The logistics subsidiaries of refiners such as PSXP, DKL, and TLLP derive most or all of their revenues from their respective parent refiners. The fall in crack spreads has negatively impacted refining companies. Read more about it in How a Fall in Crack Spreads Is Hurting Refining MLPs.
Considering the level of dependence of logistics subsidiaries on their respective refining parents, this development is impacting the performance of the subsidiaries as well.
Article continues below advertisement
PSXP trades below its 200-day moving average
The above graph shows Phillips 66 Partners' stock price movement over the last two years. It also shows PSXP's 50-day and 200-day moving averages. Phillips 66 Partners is currently trading 1.9% below its 50-day moving average and 4.9% below its 200-day moving average.
PSXP has been trading below its 200-day moving average since the end of April 2016. It fell steeply on May 5, 2016, after it announced a public offering of 11 million common units, resulting in significant dilution of its stock.
Phillips 66 Partners was formed by Phillips 66 (PSX) to own and operate crude oil, refined products, and natural gas liquids pipelines, terminals, and other transportation and midstream assets. The MLP was listed on the NYSE in July 2013.