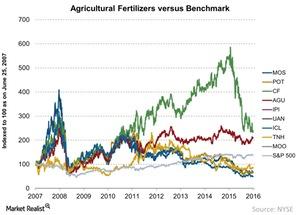 What's the Outlook for Fertilizer Companies?
By Adam Jones

Jun. 23 2016, Published 7:59 p.m. ET
Crop prices
Agricultural fertilizer stocks have withered over the past few years, with most major fertilizer producers trading below their 2007 levels. Over this time, the benchmark index S&P 500 has risen 39%, causing investors to look closely at their investments in the agricultural fertilizer sector.
Article continues below advertisement
Stocks in the red
PotashCorp of Saskatchewan (POT) is one of the major producers of NPK (nitrogen, phosphorus, and potassium) fertilizers. It's trading 36% below its 2007 level.[1. start date: June 25, 2007]
To date, Mosaic (MOS) is trading 32% below its 2007 level, and Terra Nitrogen (TNH) is trading 16% below its 2007 level.[2. start date: June 22, 2016] Israel Chemicals (ICL) has been the biggest loser among the above companies, trading 50% below its 2007 level.
Stocks listed after 2007 such as Intrepid Potash (IPI) and CVR Partners (UAN) have lost 95% and 51% of their values, respectively, since their IPOs (initial public offerings).[3. Intrepid Potash was priced on April 22, 2008, and CVR Partners was priced on April, 8 2011.]
Not all were losers
To avoid risk, you may be interested in investing in a broader portfolio such as the VanEck Vectors Agribusiness ETF (MOO). MOO has returned 19% since its inception on September 5, 2007.
Not all agricultural fertilizer companies were losers. Agrium (AGU) and CF Industries (CF) have performed significantly better over the past nine-year period. They returned 110% and 132%, respectively.
Series overview
In this series, we'll look at what caused agricultural fertilizer stocks to perform poorly compared to the benchmark indexes. Fertilizer prices have a significant impact on the companies we mentioned above. Fertilizer prices have a strong correlation with crop prices, which we'll look at next.