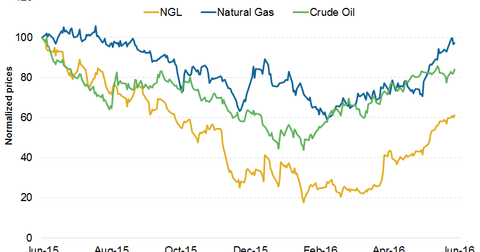 NGL Energy Partners' High Commodity Price Exposure
By Kurt Gallon

Jul. 7 2016, Updated 10:06 a.m. ET
NGL's commodity price exposure
It's believed that the earnings of midstream companies, including larger ones such as Kinder Morgan (KMI) and Energy Transfer Partners (ETP) and smaller ones such as NGL Energy Partners (NGL) and Rose Rock Midstream Partners (RRMS), do not have much direct commodity price exposure.
The correlation between NGL's stock price and crude oil (USO) resulted in a correlation coefficient of 0.48 over the past year, while natural gas (UNG) and NGL Energy have a correlation coefficient of 0.22 for the same period. The correlation between NGL Energy and crude oil has increased to 0.58 over the past month. A correlation coefficient close to 1.0 indicates a strong relationship between two variables. NGL's low correlation with natural gas reflects its negligible exposure to it. Four of NGL Energy's five segments are directly impacted by crude oil price fluctuation:
Article continues below advertisement
Crude Oil Logistics: a change in crude oil prices impacts its margins
Liquids: prices of NGLs (natural gas liquids) such as propane and butane are linked to crude oil prices
Retail Propane: like the Liquids segment, this segment suffers from low propane prices
Refined Products and Renewables: low crude oil prices result in low gasoline prices and high gasoline throughput volumes, which slightly offsets losses in other segments
NGL's indirect commodity exposure
Midstream companies are indirectly exposed to commodity prices through production levels. If the crude oil and natural gas prices continue to stay low, upstream producers might cut their production or even go bankrupt, which might result in lower throughput volumes, lower earnings, and higher counterparty risk. The decline in crude oil production or drilling activity leads to lower crude oil throughput volumes in NGL's Crude Oil Logistics segment and lower water volumes in its Water Solutions segment.