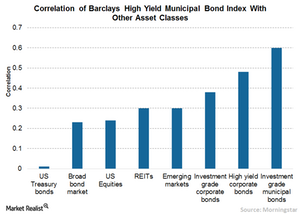 Municipal Bonds Are the Ballast to Equity Risk
By Peter Hayes

Jun. 27 2016, Updated 1:04 a.m. ET
Ballast to equity risk
Munis have a negative correlation to the S&P 500. Our analysis found that in the 11 months since 2010 in which the S&P 500 Index was down more than 2%, municipal bond funds were up an average of 0.8% — which was more than taxable bonds.
High yield municipals have also shown to be uncorrelated to high yield corporate bonds. In 2015, when collapsing energy prices weighed on corporate high yield and contributed to rising defaults, taxable high yield bond funds lost 4%, according to Morningstar data. High yield municipal funds were up by nearly the same amount.
Article continues below advertisement
Market Realist – Low correlations with other asset classes
Historically, investment-grade and high-yield municipal bonds (MUB) have a very low correlation with most other asset classes. At times, the correlation has been as low as 0.0, which indicates that municipal bonds (SUB) could offer better portfolio diversification.
According to FactSet data for the five-year period ended September 2013, the Barclays Municipal Bond Index had no correlation with the S&P 500 (IVV) Index. It had a -0.01 correlation with the Russell 2000 Index (IWO) and a 0.16 correlation with the MSCI Emerging Markets Index.
On the other hand, a study by Morningstar for the past 15 years, ended March 2016, shows that the Barclays High Yield Municipal Bond Index has a 0.23 correlation with the broader bond market. The correlation of the Barclays High Yield Municipal Bond Index with US equities almost remained at par with the broader bond market at 0.24.
Although the correlation of municipal bonds (CMF) with emerging markets increased to 0.30, it's still very minimal. It's amply clear from the data that uncertain global economic growth and volatile equities have a very limited impact on the municipal bond market. As the Markets experience high volatility, municipal bonds offer significantly better returns compared to other asset classes.