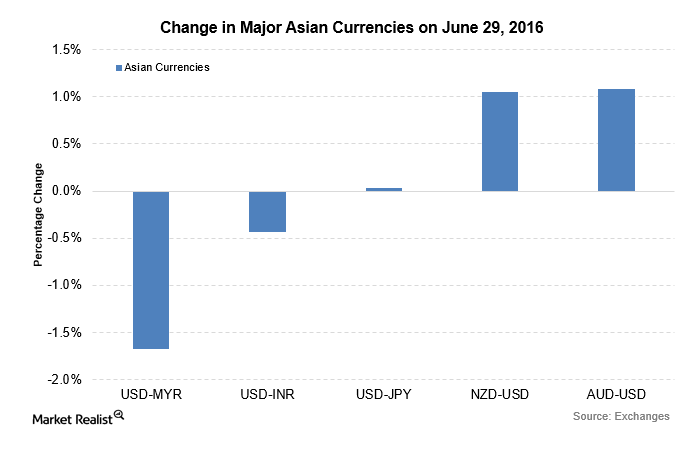 What Were the Best-Performing Currencies on June 29?
Ringgit led the rise in Asian currencies
The Malaysian ringgit led the rise in Asian currencies as the US dollar-ringgit currency pair, which is inversely related to the ringgit, fell by 1.7%. The rise in the ringgit over the past two days was mainly due to the rise in crude oil prices—a major driving factor for the Malaysian economy. Crude oil futures rose by 3.5% on June 29.
To learn more about factors that impact the Malaysian ringgit, read The Malaysian Ringgit Falls to a 17-Year Low. The iShares MSCI Malaysia ETF (EWM) rose by 2.2%, while the Vanguard FTSE Emerging Markets ETF (VWO) ended the day 2.5% higher.
Article continues below advertisement
Article continues below advertisement
Big day ahead for the pound
The pound continued it upward trend on June 29. It rose for the second consecutive day since Brexit. The pound-US dollar pair rose by 0.83%. The pound is expected to be volatile on June 30. The United Kingdom's current account and GDP release are scheduled for June 30. The Bank of England's governor, Mark Carney, is also expected to speak later today. Markets are expecting a cautious tone from him considering that there's hardly anything positive to discuss.
The US dollar-Brazilian real currency pair was among the major gainers in Latin currencies on June 29 due to the rise in commodity prices. Looking at the performance of related ETFs, the iShares MSCI Brazil Capped ETF (EWZ) rose by 4.1%, while the ProShares UltraShort Euro ETF (EUO) fell by 0.53%.
US Dollar Index rose
The US Dollar Index measures the strength of the dollar against a basket of major currencies. It was trading lower on June 21, 2016. The US Dollar Index fell by 0.50% and ended at 95.77. The PowerShares DB US Dollar Bullish ETF (UUP) also followed a similar trajectory. It fell by 0.32%.