Introducing Fidelity National Information Services
Headquartered in Florida, Fidelity National Information Services is a big hitter in software solutions and innovations in the financial services industry.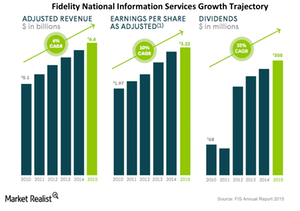 Company overview
Headquartered in Jacksonville, Florida, Fidelity National Information Services (FIS) is a leading provider of software solutions and innovations to the financial services industry (XLF)(VFH). The company offers banking and payment processing solutions that include software, services, and end-to-end outsourcing of technology.
Modern financial institutions rely on the software solutions that FIS provides—the demand for the company's products are fairly steady and secure. FIS operates on long-term contracts with clients, which generates recurring and steady revenues. This model also provides a strong foundation for the company's operations and enables it to pay reward shareholders with dividends and share repurchases while growing inorganically via acquisitions.
Article continues below advertisement
Article continues below advertisement
FIS serves more than 20,000 clients in nearly 130 countries around the world. The Florida-based company employs 55,000 people as of 2015 and specializes in payment processing, financial software, capital markets, and banking solutions. FIS is a Fortune 500 company as well as a member of the S&P 500 Index (SPY). Notably, FIS was ranked the #1 Financial Technology Company at the FinTech100 in 2013 and 2014.
History and competitors
FIS was founded in 1968 as Systematics, which was later acquired by ALLTELL Information Services. In 2003, it was taken over by the insurance major Fidelity National Financial (FNF), which renamed it Fidelity Information Services.
FIS competes directly with Fiserv (FISV) due to a high degree of product and market overlap between the two companies. Smaller companies like Jack Henry & Associates (JKHY) and DH Corporation are also substantial players in the financial technology sector. Larger tech providers such as IBM and Accenture also pose competition to FIS's businesses.
In the next part, we'll take a closer look at FIS's business model.