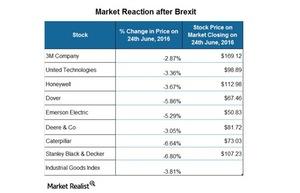 How Did Industrial Stocks React to Brexit?
By Shannon Black

Updated
Britain files for divorce with EU after 40 years
In a historic referendum held on June 23, 2016, the people of the United Kingdom voted to leave the EU (European Union), an alternative known popularly as "Brexit." In the referendum, which had a high turnout of 72%, the "remain" camp managed to win 48% of the votes, and the remaining 52% of voters opted for Brexit. The markets were widely expecting the "remain" camp to win. The results, therefore, shocked investors worldwide from Australia to the United States and wiped away $2.1 trillion from global stocks.
Article continues below advertisement
Brexit is expected to weigh on industrial conglomerates (IYF) such as Honeywell International (HON), 3M (MMM), and Stanley Black & Decker (SWK). However, the impact on individual companies is impossible to predict accurately due to insufficient data. Therefore, we'll look into the impact of Brexit on the industry in operational and macroeconomic terms.
How did industrial stocks react to Brexit?
Among the companies in our coverage, Stanley Black & Decker (SWK), which has 35 subsidiaries in the United Kingdom, was hit the hardest by Brexit. SWK fell 6.8% to $107.23 at market close on Friday, June 24. As oil prices tumbled at the outcome of the referendum, companies with energy exposure took a hit. Dover Corporation (DOV) and Emerson Electric (EMR) fell 5.9% and 5.3%, respectively.
Caterpillar (CAT), which has a sizable operation (16 plants) in the United Kingdom and is exposed to the commodity sector, fell 6.6% to $73.03 on Friday. 3M (MMM), which is more consumer-focused than other conglomerates (XLI), was far more resilient and fell 2.9% to $169.12. Aerospace giants Honeywell International (HON) and United Technologies (UTX) fell 3.7% and 3.4%, respectively.
In the next part of this series, we'll discuss the impact of Brexit on the pound sterling and corporate profits.