The Boeing Company: From the Beginning
Boeing is the world's largest aerospace company. It is the largest commercial jet manufacturer in the US and the world's second largest behind Airbus.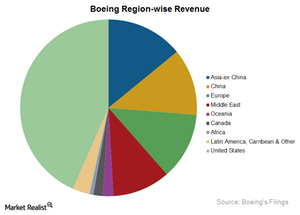 A brief look at Boeing's history
The Boeing Company's (BA) origins date back to 1916, when William E. Boeing founded Pacific Aero Products Co., after developing the single-engine, two-seat B&W seaplane with Conrad Westervelt. Renamed The Boeing Airplane Company in 1917, the company initially produced flying boats for the US Navy, followed by aircraft such as pursuit planes, patrol bombers, and torpedo planes.
In the late 1920s, the company ventured into airmail services, after which it acquired several aircraft and component manufacturers such as Avion, Pratt & Whitney, Sikorsky Aviation, and Hamilton Metalplane.
Article continues below advertisement
Article continues below advertisement
However, after antitrust legislation was passed in 1934, Boeing underwent a major breakup, which resulted in the formation of three separate entities: Boeing Airplane Company, United Aircraft Corporation (later, United Technologies Corporation), and United Airlines. AT&T (T) experienced a similar breakup in 1983, when it was divested into seven Regional Bell Operating Companies, breaking its monopoly that had lasted throughout the 20th century.
Boeing Airplane Company produced and sold dozens of products, including:
military aircraft such as the B-17, P-51 Mustang, and F/A-18 Hornet
commercial transport aircraft such as the DC-3, 747, and SST
helicopters such as the CH-46 Sea Knight and CH-47 Chinook
spacecraft such as the Saturn V Moon Rocket, Space Shuttle Orbiter, and the International Space Station
satellites such as the 702 satellite and solar-power satellite
Boeing also produced a variety of marine craft, starting with the hydrodynamic test system (or HTS) in 1959, followed by a variety of commercial and military hydrofoils and the Boeing 929-100 Jetfoil.
Overview of today's Boeing Company
Currently, the Boeing Company is the world's largest aerospace company, serving the commercial, defense, and space segments. The company produces a vast array of products and services such as commercial and military aircraft, weapons, launch systems, satellites, performance-based logistics and training, advanced information and communication systems, and electronic and defense systems.
Boeing is the largest commercial jet manufacturer in the US and the world's second largest behind Airbus. It is also the second largest defense contractor in the US behind Lockheed Martin (LMT), followed by Raytheon (RTN), General Dynamics (GD), and Northrop Grumman (NOC). Together, these companies comprise 14.19% of the Industrial Select Sector SPDR ETF (XLI).
Boeing's international presence is spread across more than 140 countries, and about 75% of the world's fleet consists of Boeing-built commercial jetliners.
Next, let's take a look at the company's revenue sources.