How Is Bunge's Environmental, Social, and Governance Score?
Bunge (BG) has had the highest ESG score among its peers for the last five years.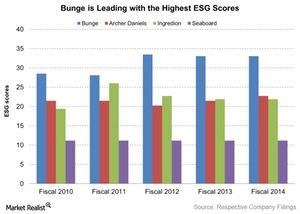 What do ESG scores depict?
Bunge (BG) has had the highest ESG score among its peers for the last five years. An ESG (environmental, social, and governance) score is mainly used to measure the sustainability and ethical impacts of investment within a company. The chart below shows Bunge's leading ESG scores in comparison to peers Archer Daniels Midland (ADM), Ingredion (INGR), and Seaboard (SEB) in the past five years.
In fiscal 2014, Bunge led with an ESG score of 33.1. ADM was in second place with a score of 22.7, followed by Ingredion with 21.9, and Seaboard with 11.16. A company's ESG score is based on its annual disclosure of various metrics in its CSR (corporate social responsibility report), which includes total GHG (greenhouse gas emissions). The PowerShares Dynamic Food and Beverage (PBJ) and the PowerShares DWA Consumer Staples Momentum Portfolio (PSL) invest 5.6% of their holdings in Ingredion.
Article continues below advertisement
Article continues below advertisement
Resource management
Bunge works to reduce water, waste, energy, and GHG footprints. It also works to protect the rights of its workers and local communities through its resource management strategy. In the below chart you can see its waste reduction achievements in 2015. Bunge was recently recognized by EXAME as the most sustainable company in Brazil. In 2016, Bunge aims to implement grievance mechanisms, full traceability, supplier verification, and on-the-ground supply chain transformation activities.
Zero-deforestation policy
Bunge plans to develop zero-deforestation plans by the end of 2016. It aims to eliminate deforestation from its agricultural supply chains worldwide through carbon and bio-diversity protections. The company also plans to apply FPIC (free, prior, and informed consent) for all land purchases and use in order to respect local and indigenous community rights. The plan also aims to enhance the transparency and traceability of supply chains.
Sustainable expansion strategy
Bunge's strategy to identify areas for sustainable agricultural development includes creating a web-based decision tool that helps to identify best areas for future origination. This will be achieved by combining public information with internal data. This tool lays out multiple data layers to determine zones of expansion by focusing on the following key points:
legal compliance and protected areas
land cover and current use
soil and climate
logistics and market
Companies would then use the final map to identify risks of expansion in that area. In the last part of the series, we'll look at what Bunge expects for 2016.