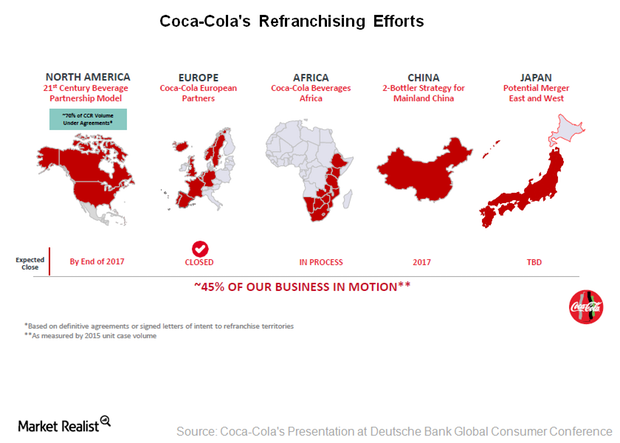 How Coca-Cola's Refranchising Efforts Will Transform the Company
By Sirisha Bhogaraju

Jun. 22 2016, Updated 11:05 a.m. ET
Recent update
On June 15, the Coca-Cola Company (KO) announced a letter of intent to refranchise territories in most of the Memphis, Tennessee, market unit to Coca-Cola Bottling Co. Consolidated (COKE).
Coca-Cola Bottling Co. Consolidated is also expected to acquire production facilities in Memphis, Tennessee, and West Memphis, Arkansas. Also, Coca-Cola Bottling Co. Consolidated and Coca-Cola Bottling Company United have agreed to exchange facilities and territories in portions of the Southeast United States.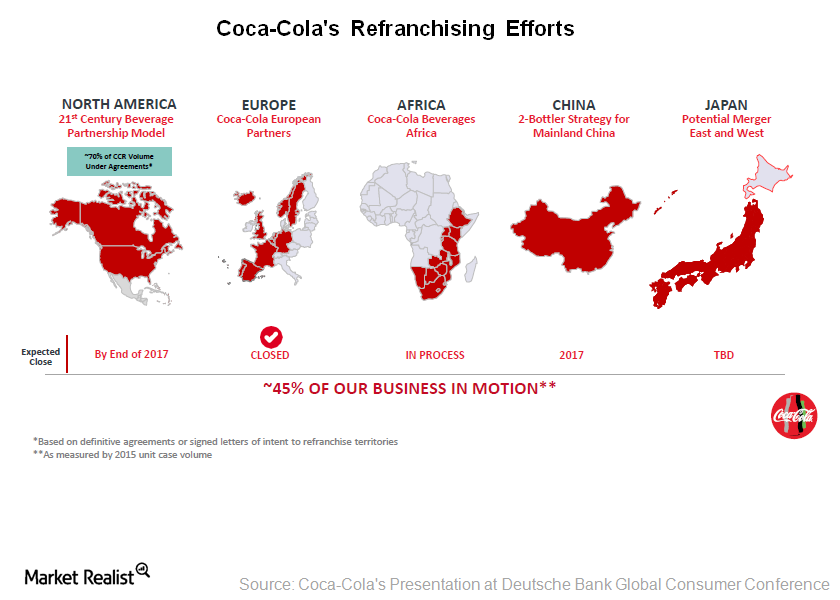 Article continues below advertisement
Impact of refranchising
At the Deutsche Bank Global Consumer Conference held on June 16, James Quincey, Coca-Cola's president and chief operating officer (or COO) discussed the company's refranchising efforts. Coca-Cola's refranchising plans will help it focus on building its core brands and reduce its exposure to the low-margin, capital-intensive bottling operations.
Coca-Cola aims to refranchise all of its North American bottling operations by the end of 2017. According to Coca-Cola's COO, as of now, the company has agreements that cover 70% of the volume that it intends to refranchise.
Coca-Cola also continues to enhance its bottling network beyond North America. As mentioned in part two of this series, in May 2016, three of the company's bottlers combined to create Coca-Cola European Partners PLC (CCE), Coca-Cola's largest independent bottler based on net sales. In Africa, SABMiller, Coca-Cola, and Gutsche Family Investments are coming together to form Coca-Cola Beverages Africa. This transaction is expected to close in the third quarter of 2016.
Article continues below advertisement
In Japan, Coca-Cola's two largest independent bottlers aim to combine their operations. In February 2016, Coca-Cola announced a non-binding letter of intent to refranchise its bottling operations in China to existing partners China Foods Limited, part of COFCO Limited, and Swire Beverage Holdings Limited.
After the transformation, Coca-Cola will handle just 3% of the global bottling volume, concentrated largely in the ASEAN (The Association of Southeast Asian Nations) countries and in India. This compares to 18% in 2015. Coca-Cola constitutes 8% of the iShares U.S. Consumer Goods ETF (IYK).
Coca-Cola and PepsiCo (PEP) have strong and extensive distribution networks. Dr Pepper Snapple (DPS) relies on these beverage giants for the distribution of some of its brands. As part of a strategic deal, Coca-Cola is now the preferred global distribution partner for Monster Beverage (MNST).
Coca-Cola's refranchising will involve the transfer of the majority of its workforce to its bottling partners. According to Coca-Cola's COO, the number of employees is expected to decline from just over 120,000 to just under 40,000. 20,000 of these employees will be in the company's core business, and the rest will be in bottling investment group territories. This will enhance the company's productivity in the long term.