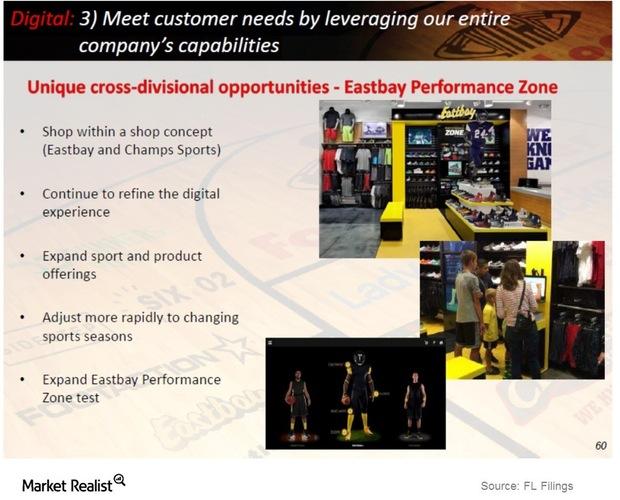 Foot Locker's e-Commerce Sales Growth: Potential and Prospects
Why Foot Locker's direct-to-customer sales are experiencing strong traction
Digital remains one of the most crucial sales drivers for Foot Locker (FL). The retailer (XLY) is stepping up web investments, enhancing its mobile shopping experience, and providing more omnichannel options to customers, including store pickup and ship-to-store.
FL is also investing in systems that would provide a single view of its customers across store banners and various selling channels.
Article continues below advertisement
Article continues below advertisement
Eastbay: A niche customer segment banner
Foot Locker (FL) operates several e-commerce websites under the Foot Locker and other store banners, both in the United States and abroad. The retailer reports e-commerce sales under the direct-to-customer (or DTC) segment.
DTC sales include sales marketed directly to customers through the Web or catalogs through Eastbay, one of the largest direct marketers of products in the United States. Eastbay also sells products through its website Eastbay.com. The Eastbay banner, which primarily targets high school athletes, sells performance footwear, apparel, equipment, and team kits.
Foot Locker's growth rate in e-commerce sales
DTC sales came in at $944 million in fiscal 2016, increasing at a CAGR (compound annual growth rate) of 16.9% over the last five years. Sales were spurred by higher customer spending on the Web. That's more than double the growth (IWP) rate experienced by physical stores. Sales from brick-and-mortar stores increased at a CAGR of 7% over the comparative period, coming in at $6.5 billion in fiscal 2016.
As a result of higher online sales growth, Foot Locker's web sales penetration has increased. In fiscal 2016, it derived 12.7% of its sales from the DTC channel, compared to 6.6% in fiscal 2007.
In contrast, rival Dick's Sporting Goods (DKS) derived 10.3% of its sales, or ~$0.75 billion, from digital channels in fiscal 2016. That's an increase of 2.8% from fiscal 2010. The retailer is targeting growing online sales to $1.0 billion–$1.2 billion in the next three years.
There's higher e-commerce sales growth for sporting goods retailers since Nike (NKE), Under Armour (UA), VF Corporation (VFC), and Adidas (ADDYY) are stepping up their investments on the Web. They're also appealing to customers by building digital fitness communities. Nike's web sales momentum shows no signs of abating. The company derived about $1.2 billion in web sales last fiscal year.