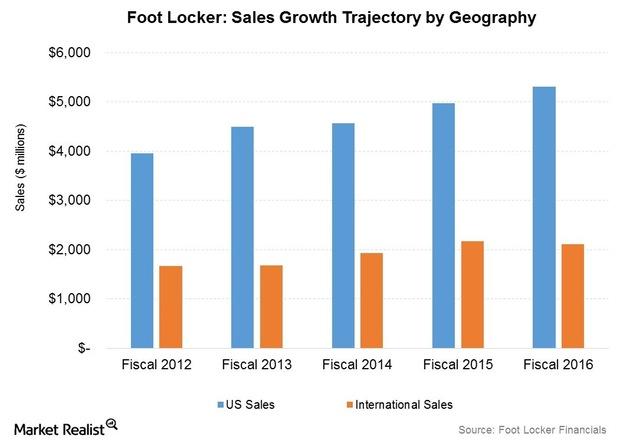 Fleet of Foot? Foot Locker's Fastest-Growing Sales Segments
Geographic analysis: Foot Locker's domestic and international sales growth trajectory
Foot Locker (FL) is one of the largest specialty sporting goods retailers in the United States. Mass merchandiser Walmart (WMT) and Dick's Sporting Goods (DKS) are ranked number one and number two, respectively, in terms of US sales.[1. Source: SportsOneSource, United States Census Bureau, Statista]
Foot Locker's revenue increased 2.9% in reported terms to $7.4 billion in fiscal 2016, which ended January 30, 2016. Forex (foreign exchange) headwinds reduced Foot Locker's overall sales growth by about 570 basis points.
Foot Locker derives most of its revenue from US markets. The company operates about 2,300 stores in the United States under several store banners, as we saw in the previous part of the series.
Article continues below advertisement
Article continues below advertisement
In fiscal 2016, Foot Locker made $5.3 billion in US sales, representing 71.6% of its total revenue. In contrast, international revenue came in at $2.1 billion, accounting for 28.4% of the company's total revenue. Despite double-digit sales growth in local currency in several key markets, the contribution of international sales to Foot Locker's revenue declined, largely due to forex factors.
Sales growth components
In the last five years, Foot Locker (FL) has increased (IWF) (VUG) its sales at a CAGR (compound annual growth rate) of 8%. Sales were $7.4 billion in fiscal 2016.
While growth has been broad-based across geographies, Foot Locker's sales from the domestic market have increased a shade faster than international sales, particularly in recent years. Domestic sales have increased at a CAGR of 8.3% over the past five years compared to 7.3% for international sales.
Foot Locker's sales growth can be partly attributed to the boom in premium sneakers and athletic apparel. This has been spurred by the increase in fitness activities and athletic pursuits around the world. While Foot Locker's global store count has actually declined over the period, the retailer has posted same-store sales growth for 25 consecutive quarters.
Running remains the largest sporting category for Foot Locker. But the success of Nike's (NKE) premium basketball products under the Nike and Jordan brands has had a lot to do with FL's higher sales in the last few years. This is particularly true in the United States. About 25% of the market for sneakers in the United States is comprised of basketball footwear.[2. The NPD Group]
Market leader Nike has a market share of more than 90% in basketball sneakers.[3. The NPD Group] Foot Locker has been steadily expanding the number of shop-in-shop arrangements with Nike over the years. Nike now accounts for 72% of Foot Locker's purchases, compared to 56% in fiscal 2008.
Besides basketball, running and training shoes have also been responsible for the strong momentum experienced by Foot Locker, both inside and outside the United States.