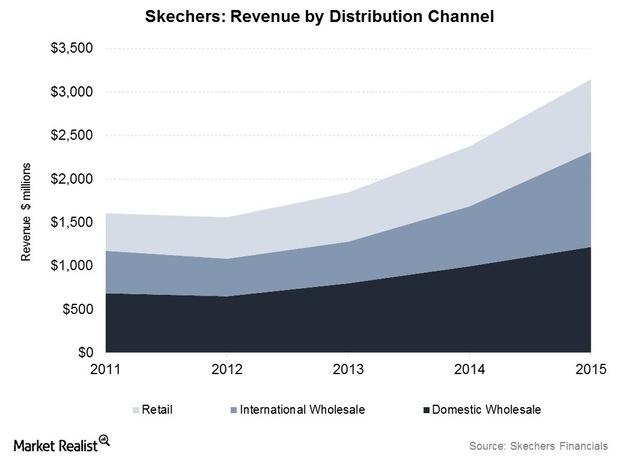 How Skechers Sells Its Products to Its Customers
Skechers' exponential sales growth
Skechers (SKX) clocked sales of $3.1 billion in 2015, a growth rate of 32.4% year-over-year (or YoY). The company became the second-largest footwear company in the United States, trailing global market leader Nike (NKE).
Skechers' revenue has risen (IWF) at a CAGR (compound annual growth rate) of 26.1% in the last three years. This is one of the fastest growth rates in the athletic apparel and footwear industries. Over the last three fiscal years, the comparative CAGRs of other players in the athletic gear industry have been as follows:
Skechers sells its products in about 160 countries through both wholesale and retail channels and via distributors, joint ventures, shop-in-shops, and licensees.
Skechers' products are also available for purchase on its numerous country-specific e-commerce websites. As of April 21, 2016, the company operated a total of 1,414 retail doors, both company-owned and third-party owned, around the world.
Article continues below advertisement
Article continues below advertisement
Segment reporting
Skechers reports its sales through three segments:
domestic wholesale sales
international wholesale sales
retail sales
The domestic wholesale sales segment includes sales made in the United States via other retailers, including sporting goods retailers such as DICK's Sporting Goods (DKS), department stores, and e-retailers.
The international wholesale sales segment includes sales made outside the United States via Skechers' overseas joint ventures and subsidiaries, its sales to distributors (who in turn make the product available to sporting goods retailers and department stores), and its income from licensees.
The retail sales segment includes sales made via the company's owned and operated stores both in the United States and overseas. Skechers' stores consist of various formats, including concept stores, factory outlet stores, and warehouse outlet stores. The retail sales segment also includes online sales (XRT) (RTH) made on Skechers' various e-commerce sites.
We'll discuss each of these segments in more detail in the next few articles.