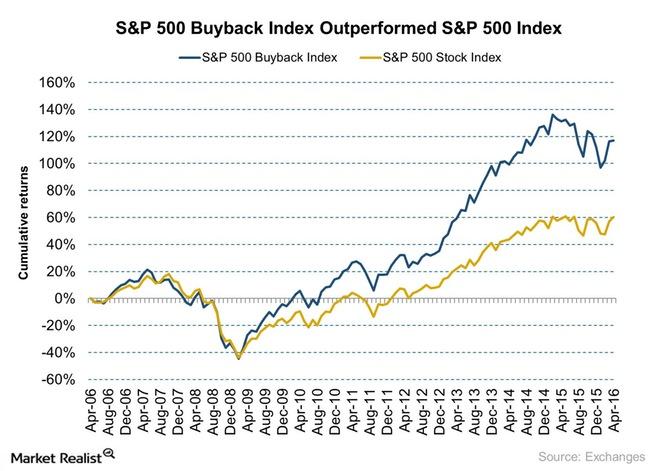 Carl Icahn's View on Share Buybacks Is Divided
Are Icahn's views divided on share buybacks?
Apple (AAPL) is one of the most cash-rich companies in the US. While Carl Icahn has been talking about share buybacks (PKW) (SPYB) artificially inflating the Market and asset values, some buybacks have occurred as a result of his push.
Although Icahn shuns the easy money–backed buyback spree in general, he endorses companies that sit on a lot of cash to go in for buybacks. Apple (AAPL), Microsoft (MSFT), Nike (NKE), Johnson & Johnson (JNJ), and ExxonMobil (XOM) are a few of these companies that have comfortable levels of leverage and good amounts of cash.
Article continues below advertisement
Article continues below advertisement
Carl Icahn: Cash-rich companies should conduct buybacks
Icahn has held a decent share in Apple (AAPL) for three years through 1Q16. During this timeframe, he has repeatedly advised Apple's (AAPL) management to consider increased share buybacks as a means to utilize the company's huge cash pile.
In his May 2015 letter to Tim Cook, Icahn wrote, "We are pleased that Apple has directionally followed our advice and repurchased $80 billion of its shares (yielding the company's shareholders an excellent return), but the company's enormous net cash position continues to grow while the company's shares are still dramatically undervalued. With Apple's shares trading for just $128.77 per share versus our valuation of $240 per share, now is the time for a much larger buyback."
With Icahn expressing his concern over the undervaluation of Apple's shares, he was able to lift the share price by 1.1% on May 18, 2015. Let's move on to assess whether Icahn's views on share buybacks and the undervaluation of Apple stock brought him any gains.