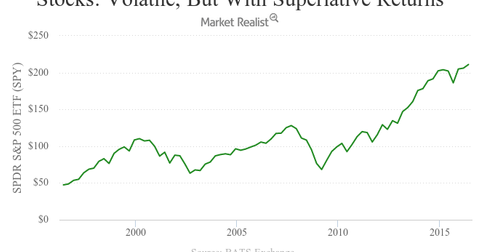 Why Bill Gross Thinks the Era of High Returns Is Over
By David Ashworth

Updated
Stocks and bonds had a great run
In the previous part, we focused on the superlative run that investment-grade bonds started in 1976. This was one piece of evidence that Bill Gross provided regarding the "magnificent era" experienced by fund managers. He also pointed to the great run that stocks had in the 40-year period until May.
He took the instance of the S&P 500 (SPY) (IVV). Its annual returns, including dividends, have been more than 3% higher than investment-grade bonds as represented by the Barclays Capital U.S. Aggregate Index.
[marketrealist-chart id=1354880]
Article continues below advertisement
Is the run over?
Bill Gross thinks that the era of double-digit stock returns (SCHB) (USMV) and high single-digit investment-grade bond returns is over. He referred to this scenario as a "grey if not a black swan event."
A "black swan event" is a term made famous by Nassim Nicholas Taleb. It's an occurrence that's way beyond a normal expectation—like a black swan in a swarm of white swans. The extremely low probability of the event makes it hard to predict. However, such an event has a tremendous impact. For instance, the terrifying stock market decline on October 19, 1987, was known as "Black Monday." It was unpredictable, but it had a huge impact.
Bill Gross said that since interest rates remain exceedingly low and even in the red in some countries like Sweden, Denmark, Switzerland (EWL), and Japan (EWJ), the period of superlative returns on stocks and bonds is an outlier that can't be repeated.
Invoking economist Joseph Schumpeter again, he said that although the top rooms of financial markets' grand hotel continue to remain occupied "by attractive relative asset classes," the room rate is through the roof. This represents high risk.
What he means by this is that although some asset classes are still providing good returns, relatively speaking, these returns come with a much higher risk than before.
He provided more evidence for his thesis. We'll look at this in the next part.