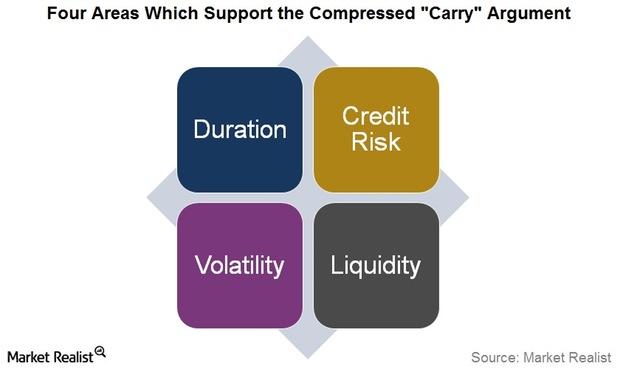 Why Is 'Carry' Compressed in Financial Markets?
Compressed "carry"
In the first part of this series, we explained what "carry" means in terms of financial markets. In his investment outlook for June 2016, Bill Gross asserted that "carry" is compressed in nearly every form. It has more risk than return. He outlined four areas, primarily pertaining to fixed-income markets (SHY) (CIU) (PHB), to support his assertion:
duration
credit risk
volatility
liquidity
Article continues below advertisement
"Carry" in duration
A bond's duration is a measure of its price sensitivity to a change in interest rates. It shows how much the price of a bond might change given a certain change in prevailing interest rates. A higher duration means greater sensitivity towards a change in interest rates.
Bill Gross says that "Duration is unquestionably at risk in negative yielding markets." In theory, if the coupon and maturity of two bonds are the same, then a lower yield will result in a higher duration.
To exemplify his point, Bill Gross pointed to the fact that negative yielding five-year German bunds will only produce losses if held to maturity. A 45 basis point yield on the 30-year Japanese government bond provides a "carry" of just 40 basis points if held for the entire duration of 30 years. If interest rates moved by a measly 2 basis points, an investor will lose his entire yearly income.
What he's essentially trying to say is that extending the maturity of your bond portfolio (TBILX) (PRCIX) carries much higher risk than reward given the interest rate environment that we're in.
In the next part, we'll discuss the other areas that Bill Gross outlined.