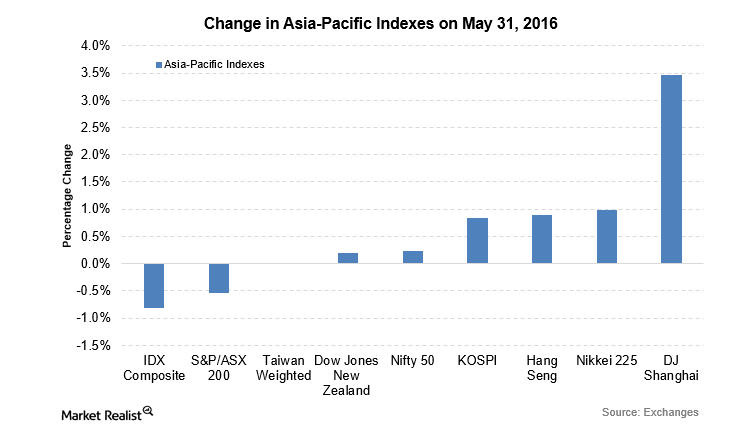 Brexit Threat Spreads Risk around Global Markets
Asian indexes rose with Chinese stocks leading the way
Major Asian indexes (AAXJ) performed well on May 31, 2016, with the Chinese markets leading the way. The rise in the Chinese indexes was primarily attributed to the increased expectations that US-based MSCI will include Chinese stocks in its emerging market basket. The Chinese (MCHI) DJ Shanghai Index had a significant rise of 3.5% on the day.
The Japanese (DXJ) Nikkei 225 Index also posted solid gains as it rose by 0.98%. The US dollar–Japanese yen currency pair, which is inversely related to the Japanese yen, fell by 0.4% on the day. The iShares MSCI India ETF (INDA) rose by 0.23%.
The Australian (EWA) S&P/ASX 200 Index fell by 0.54%, while the Dow Jones New Zealand Index (VPL) rose by 0.19%.
Article continues below advertisement
European indexes fall as Brexit worries resurface
Major European indexes (DBEU) fell on May 31 as polls conducted by the Guardian and ICM suggested people want the United Kingdom to leave the European Union.
The SPDR Euro Stoxx 50 ETF (FEZ) fell by 0.87% . The German DAX and the French CAC 40 fell by 0.68% and 0.53%, respectively.
Non-Eurozone markets also fell. The United Kingdom's (FKU) FTSE 100 fell by 0.64%. Sweden's (EWD) OMX Stockholm 30 fell by 0.75%. The Russian (RSX) MICEX was the worst-performing index for the day, falling by 1.9%.
US markets
On May 31, the S&P 500 VIX Index rose by 8.2%, while the S&P 500 Index fell by 0.10%. The NASDAQ rose by 0.29%, and the Dow Jones Industrial Average fell by 0.48%.