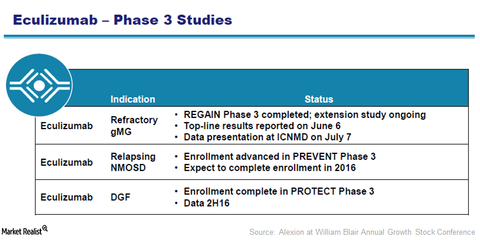 What Are the Additional Labels for Alexion's Soliris?
By Jillian Dabney

Updated
Soliris's advanced clinical studies
Soliris is Alexion Pharmaceuticals' (ALXN) leading drug, which was approved for paroxysmal nocturnal hemoglobinuria (or PNH) and atypical hemolytic uremic syndrome (or aHUS) in 2007 and 2011, respectively.
Alexion is exploring continuous label expansion opportunities for the drug. To learn more about the drug's recent performance, you can refer to Inside Soliris's Continued Growth Momentum.
Eculizumab, or Soliris, is being studied in six clinical trials for various indications. Three studies are in the Phase III development stage. For details on the Soliris' label expansion, you can refer to Alexion Pharmaceuticals Expands Soliris Labels.
Article continues below advertisement
Phase III studies for eculizumab
REGAIN, PREVENT, and PROTECT are the three Phase III studies for eculizumab for the indication of refractory generalized myasthenia gravis (or gMG), relapsing neuromyelitis optica spectrum disorder (or NMOSD), and delayed kidney transplant graft function (or DGF).
On June 6, 2016, Alexion announced REGAIN's top line results. The study missed its primary endpoint. However, there were clinically meaningful improvements in the scores of Myasthenia Gravis-Activities of Daily Living Profile (MG-ADL) and Quantitative Myasthenia Gravis (or QMG) in comparison with the placebo.
ALXN is analyzing the data and will present the results at the 14th International Congress on Neuromuscular Diseases (or ICNMD) in Toronto, Canada, on July 7, 2016.
Phase II studies for eculizumab
Phase II studies of antibody-mediated rejection (or AMR) presensitized renal transplant in living and deceased donors are the two different studies for the drug. There's also one investigator-initiated trial for the treatment of AMR following renal transplantation.
Soliris is one of the costliest drugs in the world. BioMarin's (BMRN) Naglazyme and Vimizim, Shire's (SHPG) Elaprase, and Mallinckrodt's (MNK) Acthar are some of the world's other costliest drugs.
A stock's price is susceptible to company-, industry-, and economy-specific events. To avoid the volatility and direct risk associated with Alexion, investors can look for options such as the iShares Nasdaq Biotechnology ETF (IBB). The fund holds 3.0% in Alexion.