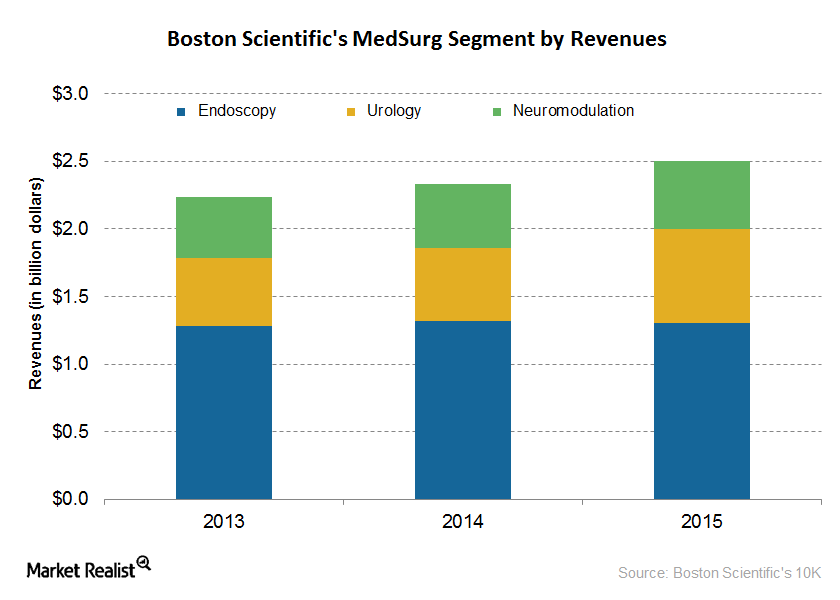 Understanding Boston Scientific's MedSurg Segment
By Sarah Collins

May. 16 2016, Updated 1:07 p.m. ET
An overview of Boston Scientific's MedSurg segment
Boston Scientific's (BSX) MedSurg segment contributes around 33% to the company's total revenues and is the company's second-largest segment. It comprises the core business areas of Endoscopy, Urology and Pelvic Health, and Neuromodulation. These business areas contributed ~17%, 9%, and 7%, respectively, to the company's total revenues.
Boston Scientific's MedSurg segment registered an operational sales growth of ~13% in 2015. The reported net sales growth, however, was around 7%, which included the negative impact of currency headwinds. Investors can gain diversified exposure to Boston Scientific by investing in the iShares Russell 1000 ETF (IWB), which has ~0.15% of its total holdings in BSX.
Article continues below advertisement
Endoscopy business segment
The Endoscopy business segment offers less-invasive endoscopy technologies focused on improving operational efficiencies at a lower total cost of care. The Endoscopy segment witnessed ~6% operational revenue growth in 2015. This growth was primarily driven by new product launches such as the SpyGlass DS Direct Visualization System and the Axios stent, as well as the growth across established franchises.
The Axios stent was added to the Boston Scientific's product portfolio through the acquisition of Xlumena in April 2015. Xlumena was a venture-backed company that manufactured minimally invasive devices for endoscopic ultrasound–guided transluminal drainage of the areas within the gastrointestinal tract. Johnson & Johnson (JNJ), Medtronic (MDT), and Cook Medical are Boston Scientific's major competitors in the area of endoscopy in the United States.
Article continues below advertisement
Urology and Public Health
Boston Scientific provides the most comprehensive urology product portfolio for the treatment of conditions including kidney stones, erectile dysfunction, and male incontinence. The Urology and Pelvic Health segment witnessed ~36% operational revenue growth in 2015, which was primarily driven by the AMS portfolio acquisition in August 2015.
Boston Scientific purchased American Medical Systems' Male Urology business from Endo International for $1.6 billion in cash and an additional $50 million milestone-based payment. Medtronic and Cook Medical are Boston Scientific's major competitors in this segment.
Neuromodulation
Boston Scientific has established itself as the leader in microelectronic implantable technologies for the management and treatment of chronic pain and other neurological disorders. The Precision Spectra spinal cord stimulator (or SPS) system is a market-leading product for the company. Medtronic and St. Jude Medical (STJ) are the company's major peers in this segment.
Boston Scientific's (BSX) neuromodulation product portfolio includes rechargeable and non-rechargeable spinal cord stimulators and deep brain stimulators. These products are used to treat medical conditions including Parkinson's disease, chronic pain, dystonia (a neurological movement disorder caused by uncontrollable muscle spasms), and essential tremor (neurological movement disorder involving uncontrollable shaking).