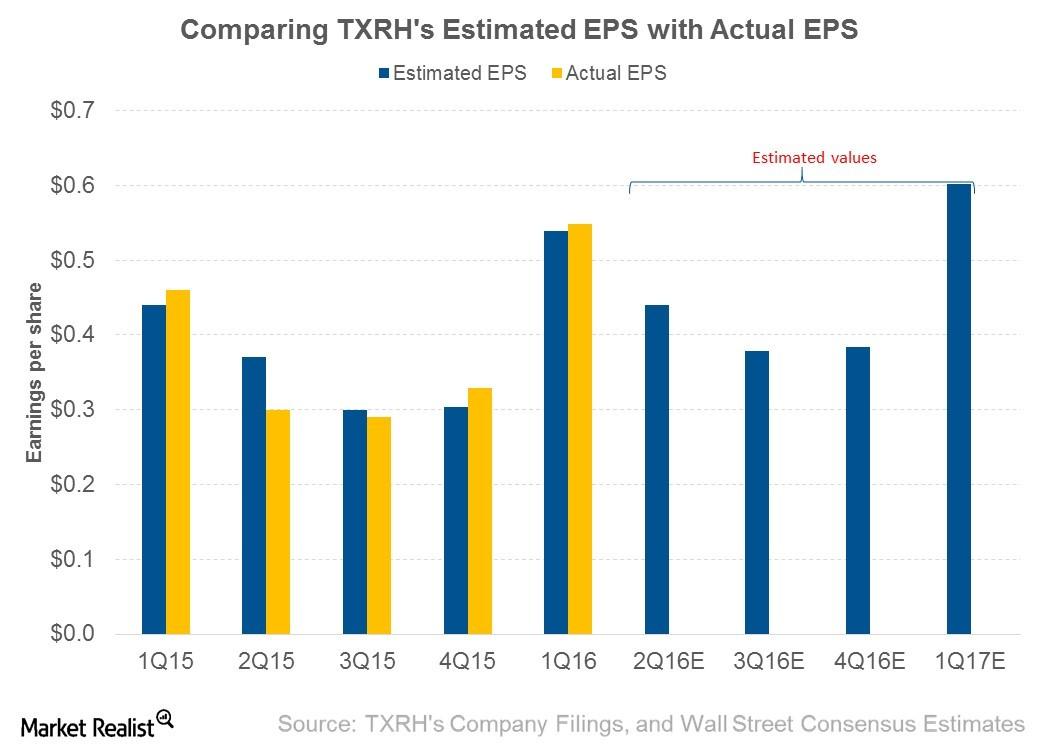 Texas Roadhouse's 1Q16 EPS Was below Analyst's Expectations?
EPS growth
In 1Q16, Texas Roadhouse (TXRH) posted EPS (earnings per share) of $0.5. This was lower than analysts' estimate of $0.54. However, the adjusted EPS stood at $0.55. This was above analysts' estimates. It represented growth of 16.1% from $0.46 in 1Q15. The settlement charges on a wage-per-hour demand with the Delaware Department of Labor had an impact on the EPS by -$0.05.
Article continues below advertisement
Growth in adjusted EPS
The growth in adjusted EPS was due to revenue growth of 12.1% and operation margin expansion from 19% in 1Q15 to 20.1%. The EPS growth in 1Q16 was also positively impacted by share purchases in the last 12 months. The company purchased shares worth $27.4 million. Repurchasing shares reduces the shares outstanding. This increases the EPS.
Outlook
Texas Roadhouse forms 0.55% of the holdings of PowerShares DWA Momentum Portfolio (PDP). Analysts expect Texas Roadhouse to post EPS of $0.44, $0.38, $0.38, and $0.6 in 2Q16, 3Q16, 4Q16, and 1Q17, respectively. Positive 1Q16 results prompted analysts to increase their 2Q16 estimates from $0.42 earlier. For fiscal 2016, analysts expect Texas Roadhouse to post EPS of $1.8. This represents growth of 27.1% from $1.4 in 2015.