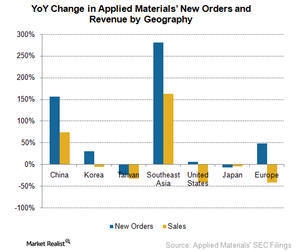 The Role of China in Applied Materials' Revenue and Orders in Fiscal 2Q16
By Puja Tayal

Updated
Revenue by geography
The graph below shows the transition of semiconductor manufacturing from developed economies of the US and Europe to Asian economies. Some of the biggest foundries such as TSMC (TSM) and Samsung (SSNLF) are located in Asia. In fiscal 2Q16, Applied Materials' (AMAT) revenue was flat as strong growth in China and Southeast Asia was offset by declines in other countries.
Meanwhile, revenue from the US and Europe fell by more than 42% YoY (year-over-year) to $272 million and $97 million, respectively, in fiscal 2Q16. Surprisingly, revenue from Taiwan (EWT) fell by 32.5% YoY to $311 million. The earthquake in February 2016 might explain this decline.
Article continues below advertisement
In any case, China emerged as a strong market for AMAT with fiscal 2Q16 revenues rising 73% YoY to $752 million, accounting for 31% of the company's revenue. The revenue was driven by domestic and multinational companies' investments in fabrication facilities, or fabs. Intel (INTC) and TSMC are building fabs in China.
Southeast Asia is emerging as a new market for AMAT, with revenues rising 163% YoY to $252 million, accounting for 10% of the company's fiscal 2Q16 revenue. This is because Micron Technology (MU) is ramping up its 3D NAND production at its Singapore plant.
New orders by geography
The new orders and revenues from Europe and the US moved in the opposite direction while in Asian countries, new orders and revenues moved in the same direction. In Europe, revenues declined by 42% YoY, but new orders rose by 48% YoY to $194 million in fiscal 2Q16. In the US, new orders rose by 5% YoY to $386 million, but revenues fell by more than 42% YoY in fiscal 2Q16.
Southeast Asia and China were the most aggressive in terms of new orders. New orders from China rose by 157% YoY to $903 million in fiscal 2Q16 while in Southeast Asia, new orders rose by 281% YoY to $392 million in fiscal 2Q16. New orders from Korea rose by 30% YoY to $792 million.
AMAT's key markets are thus shifting from developed economies to Asian economies. Now let's look at the company's product mix from different consumer markets.