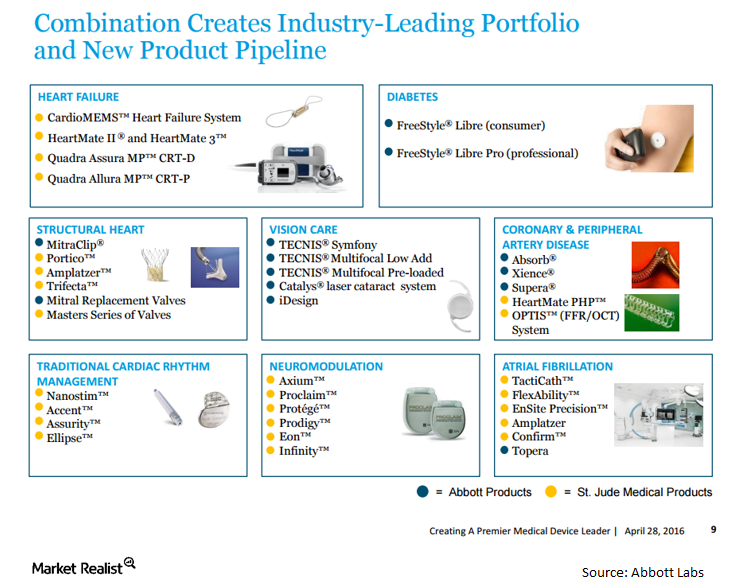 Rationale for the St. Jude Medical-Abbott Merger Transaction
By Brent Nyitray, CFA, MBA

May. 4 2016, Updated 9:08 a.m. ET
St. Jude and Abbott merge to become a cardio powerhouse
As we saw in the first part of the series, Abbott Labs (ABT) is buying St. Jude Medical (STJ) for about $30 billion in cash, stock, and assumed debt in order to become a dominant player in the cardiovascular health space. The combined company will hold the first and second market share positions in the cardiovascular device market. The companies estimate the potential addressable market to be over $30 billion per year.
Abbott is also buying Alere (ALR). It's having issues getting out its financial statements. Abbott claims that it has access to enough funds to buy both companies. However, there are news reports saying that Abbott is looking for a way out of the Alere transaction.
Article continues below advertisement
Management's comments
"Bringing together these two great companies will create a premier medical device business and immediately advance Abbott's strategic and competitive position," said Miles D. White, Abbott's chairman and CEO. "The combined business will have a powerful pipeline ready to deliver next-generation medical technologies and offer improved efficiencies for health care systems around the world."
Synergy estimates
The companies estimate that the transaction will deliver ~$500 million per year in pretax synergies by 2020. The deal will be accretive to Abbott's adjusted earnings per share in the first year after completion. It will increase to $0.21 in 2017 and $0.29 in 2018.
Other merger arbitrage resources