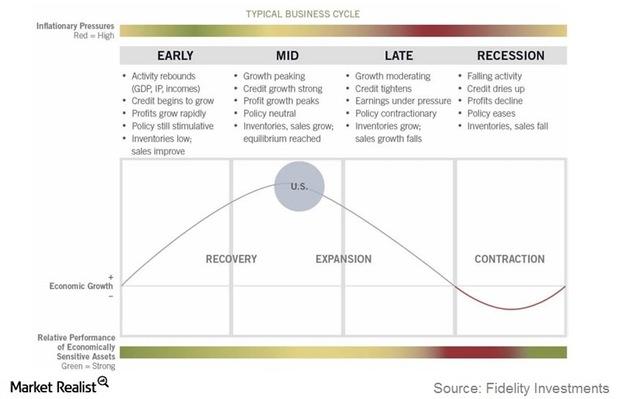 Portfolio Positioning with the Business Cycle
By David Ashworth

May. 24 2016, Published 6:28 p.m. ET
What is a business cycle?
A business cycle is a series of distinct phases witnessed by an economy and corporate profits, among others. Although a particular business cycle can have distinct features, all seem to go through four broad and distinct phases. The graph from Fidelity Investments below succinctly outlines the phases of a business cycle.
Article continues below advertisement
Portfolio positioning with the business cycle
Investors who take the top-down approach to investing put a lot of emphasis on the business cycle for positioning their portfolios. Let's see what they focus on at different stages of a business cycle.
Early cycle: This is the phase of recovery from the previous recession in which monetary and fiscal policies have been put into effect and have begun yielding results. Stock markets generally do very well in this phase.
At this stage of the cycle, sectors like financials (XLF) (VFH) and information technology (XLK) do well in this phase. Transportation stocks (JBHT) (UPS) (KEX) have also done reasonably well in this phase.
Mid-cycle: This phase of the cycle is characterized by peak growth, in which expansionary monetary and fiscal policies have run their course and further stimulation is not required. Returns in the financial markets continue to rise, but their pace slows significantly.
Energy (XLE) and materials (XLB) stocks (DD) (MON) have been known to do well in this phase of the business cycle.
Late cycle: Late cycles are characterized by a moderation in economic growth with rising inflation. The possibility of contractionary policies in order to rein in an overheating economy starts becoming a reality.
At this phase, macro managers start shifting their focus toward consumer staples (XLP), healthcare (XLV), and utilities (XLU).
Recessionary cycle: The late-cycle phase is followed by a recessionary phase in which economic activity declines, discretionary spending falls, and credit becomes difficult due to previously adopted contractionary policies. In turn, this is reflected in declining corporate profits.
Staying away from equities is wise advice in this phase, with the remaining equity exposure being mostly defensive and looking for an upturn. In this phase, consumer discretionary (XLY) and financials can become useful again.
Although US stocks have been on an extended bull run, investors across the spectrum are very cautious. In the next article, we'll look at Richard Bernstein's take on the situation.