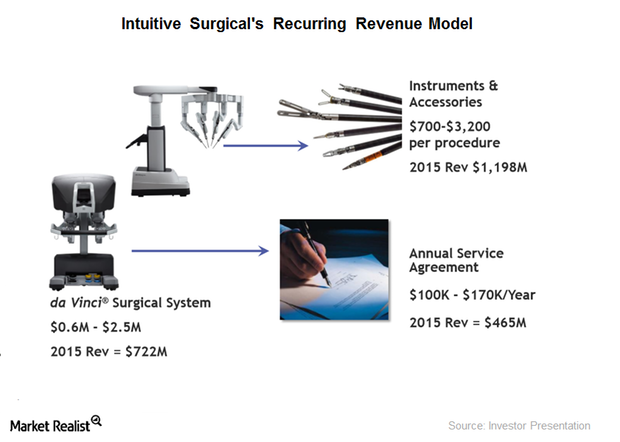 What Does Intuitive Surgical's Business Model Look Like?
Intuitive Surgical (ISRG) defines its business model as a "razor/razor blade" model. What does this mean?
Business model overview
Intuitive Surgical (ISRG) defines its business model as a "razor/razor blade" model. Such a model involves selling a product that will generate recurring revenue through the sale of complementary and dependent goods during the usage of that product.
This business model creates a steady revenue stream. Intuitive Surgical sells its robotic surgical systems, then it generates further revenue through service contracts and disposable consumables used for performing surgical procedures, including instruments and accessories.
The average sale price of a da Vinci surgical system is about $1.5 million, and consumables revenue comes to about $1,840 per procedure. Service contract revenue ranges from $100,000 to $170,000 per system, per year.
Article continues below advertisement
Article continues below advertisement
The company's revenue per procedure was impacted by the strong US dollar, and it's expected to rise once foreign exchange fluctuation stabilizes. Sales of the da Vinci surgical system are also impacted by seasonality. The systems witness higher sales in the fourth quarter of each year and lower sales in the first and third quarters.
Major peers such as Stryker (SYK), Medtronic (MDT), and Johnson & Johnson (JNJ) are also impacted by seasonal trends and have built strong business models to deliver consistent growth. Investors interested in investing in Intuitive Surgical can consider the iShares Russell Mid-Cap Growth ETF (IWP), which holds approximately 0.78% in ISRG.
Recurring revenue stream
In 1Q16, Intuitive Surgical reported revenue of around $595 million, an 11.8% YoY (year-over-year) rise in revenue. The company sold 110 new da Vinci systems compared to 99 systems in 1Q15. These sales represent system revenue of around $148 million, representing a ~5% rise YoY.
Instruments and accessories sales witnessed a rise of ~16% YoY to $322 million. Another $125 million was generated through service revenue. These recurring revenue streams made up ~75% of the company's total revenue in 1Q16.
Thus, the higher margin sales of service contracts and consumables, including instruments and accessories, are driving the profitability of the company. As a result, Intuitive Surgical's operating margin improved from 24.5% in 1Q15 to around 30.1% in 1Q16.