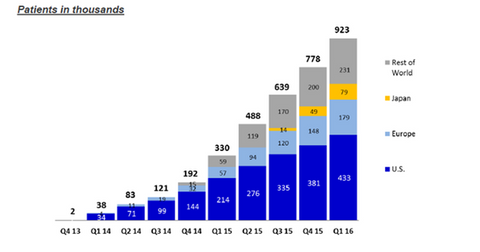 Gilead Sciences' Big Growth Opportunity for 2016 Is HCV
By Margaret Patrick

Updated
Gilead's HCV segment
Gilead Sciences (GILD) has estimated that 25,000–30,000 HCV (hepatitis C) patients switch regimens every month, which exceeds the number of monthly new patient starts. This indicates the scope of market opportunity available for Gilead Sciences' HCV drugs, both in the new patient category as well as in the category that has opted for other HCV drugs.
The above diagram shows the total number of HCV patients treated with GILD's Sofosbuvir-based drugs, Sovaldi, and Harvoni since 2013. In the US, there are 3 million more HCV patients who could benefit from GILD's HCV treatment. About 50% of these patients are not yet diagnosed.
That said, increasing education and awareness is expected to boost diagnosis rates in the future, thus offering strong growth opportunities for Gilead Sciences and other HCV players like AbbVie (ABBV), Merck (MRK), and Bristol-Myers Squibb (BMY).
Article continues below advertisement
International markets
Although the number of patients adopting Gilead's HCV drugs has been on a rise in Europe, there has been a drop in revenues earned per patient. This is attributed to a shift in patient mix toward geographies with lower reimbursement rates and toward reductions in the durations of therapy. Gilead Sciences expects that increasing diagnosis rates and access to less sick HCV patients will contribute to company growth in the European market.
GILD's HCV drugs Sovaldi and Harvoni have meanwhile managed to capture 90% of the HCV market in Japan. The company has also witnessed a strong uptake of its HCV drugs in the Australian market, which reflects the government's initiative to treat HCV as well as past warehoused demand.
If Gilead Sciences continues with an aggressive market expansion strategy for its HCV franchise, it could boost the company's future share price as well as that of IVW. Gilead Sciences makes up about 1.3% of IVW's total portfolio holdings.
In the next and final part, we'll explore Gilead Sciences' NASH (nonalcoholic steatohepatitis) research program in greater detail.