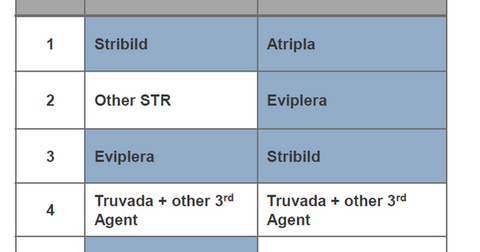 Understanding Gilead Sciences' HIV Expansion across Geographies
By Margaret Patrick

Updated
Gilead Sciences' HIV franchise
In addition to the US market, Gilead Sciences (GILD) also launched its TAF-based (tenofovir alafenamide) HIV (human immunodeficiency virus) drugs, Genvoya and Descovy, in European markets in 2016. The new TAF-based drugs are expected to strengthen Gilead Sciences position in the HIV market in Europe even further.
The table below shows the top five most-prescribed HIV regimens for treatment-naïve HIV patients as well as all HIV patients in the big five countries in Europe—the United Kingdom, Germany, France, Italy, and Spain. Gilead Sciences' STRs (single-tablet regimens) are the top-ranking HIV therapies in both patient categories in Europe.
Meanwhile, patients who initially used Atripla have been actively shifting to Stribild and Eviplera. Stribild is the most-prescribed HIV regimen for new patients in Europe. Eviplera has managed to rank third in this category.
Article continues below advertisement
The Genvoya launch
Launched in Germany in 1Q16, Genvoya has managed to become a leading HIV therapy for both treatment-naïve patients and switching patients in the country. After the successful conclusion of reimbursement negotiations, the drug was also launched in Spain in April 2016. Based on its strong clinical and safety profile, Genvoya is being regarded as the preferred regimen in Germany, Italy, and Spain. GILD is also focused on accelerating the launch of the drug in other European markets.
Genvoya is expected to help GILD offer tough competition to other HIV players in the European market. These include Pfizer (PFE), GlaxoSmithKline (GSK), and Johnson & Johnson (JNJ).
Descovy Launch
Gilead Sciences launched Descovy in the European markets in April 2016. As the only NRTI (Nucleoside-Nucleotide Reverse Transcriptase Inhibitor) backbone therapy to be launched after Truvada, Descovy is expected to replace Truvada and become a leading backbone therapy.
If Gilead Sciences' new TAF-based HIV drugs manage to become commercial successes in international markets, they could boost the company's share price as well as that of the Vanguard Growth ETF (VUG). GILD makes up about 1.5% of VUG's total portfolio holdings.
In the next part, we'll examine the pricing pressures faced by Gilead Sciences' HCV (hepatitis C) segment in the US.