Inside Gilead Sciences' Involvement in TAF Therapies
On March 01, 2016, the FDA approved Gilead Sciences' TAF-based HIV drug, Odefsey, for the treatment of certain HIV-1 afflicted patients.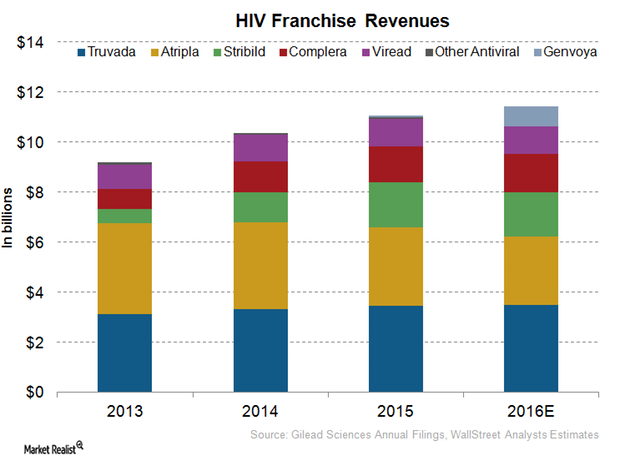 TAF therapies
On March 01, 2016, the FDA (US Food and Drug Administration) approved Gilead Sciences' (GILD) TAF-based (tenofovir alafenamide) HIV drug, Odefsey, for the treatment of certain HIV-1 afflicted patients. On April 04, 2016, the FDA also approved another of the company's TAF-based HIV drugs, Descovy.
These drugs combined with Genvoya, which was approved by the FDA on November 5, 2015, are expected to offer a range of options to different types of HIV patients. These drugs all target treatment-naïve HIV patients as well as those who would like to switch from their existing regimens.
Article continues below advertisement
Article continues below advertisement
HIV drug performance
Wall Street analysts have projected that GILD's total HIV product revenue will rise YoY (year-over-year) by about 3.4%, from ~$11.1 billion in 2015 to $11.4 billion in 2016.
Genvoya is expected to be a key driver of GLD's revenue growth in 2016. The drug's revenues are expected to reach $804.7 million in 2016. Despite being a leading HIV drug for treatment-naïve patients in the US in 2015, Stribild is expected to lose some of its market share to TAF-based drugs in 2016.
Genvoya
With the exception of Atripla, which was the first single-tablet regimen for HIV, in the first five months after its launch in the US, Genvoya managed to secure the highest number of cumulative prescriptions of any HIV drug.
About 82% of Genvoya's patients are those who have switched from other HIV regimens. Out of the total switched patients, 91% had been using GILD's HIV drug, whereas only 9% were using HIV drugs belonging to other companies. About 49% of Genvoya's patients were originally using Stribild. Physicians and patients have been satisfied with Genvoya's efficacy and safety profile, which indicates the possibility of more switches to the TAF-based drug.
With TAF-based drugs, GILD is expected to continue being a strong competition for other HIV players such as Pfizer (PFE), GlaxoSmithKline (GSK), and Johnson & Johnson (JNJ). The strong performance of TAF-based HIV drugs is expected to boost GILD's share price as well as those of the iShares Russell 1000 Growth ETF (IWF). GILD makes up about 1.1% of IWF's total portfolio holdings.
Continue to the next part for a closer look at Gilead Sciences' HIV segment strategy in international markets.