How Is Facebook's Average Revenue per User Trending?
Average revenue per user (or ARPU) is a key metric for Internet companies, as it helps in analyzing how well a company can monetize its user base.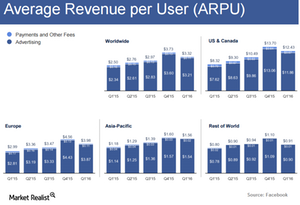 ARPU is a key metric to look at for Facebook
Average revenue per user (or ARPU) is a key metric for Internet companies, as it helps in analyzing how well a company can monetize its user base. According to Facebook (FB), "ARPU is calculated using the total revenue in a given geography during a given quarter, divided by the average of the number of MAUs in the geography at the beginning and end of the quarter." One thing to note here is "while ARPU includes all sources of revenue, the number of MAUs used in this calculation only includes users of Facebook and Messenger."
Facebook's ARPU rose 33% YoY to $3.32 in 1Q16 thanks to the increase in user engagement and higher ad prices. However, unfavorable foreign exchange movement played a spoilsport.
Regionally, ARPU increased the most in the US and Canada (EWC) by 49%, followed by Europe and Asia-Pacific where ARPU rose 33% and 32%, respectively. ARPU in the rest of the world saw an increase of 14% during the quarter.
Sequentially, ARPU marked a decline of 11%. However, the metric is related to seasonality. Currency movement did play a negative role, as the strengthening of the US dollar relative to other countries dragged down the ARPU growth rate.
Article continues below advertisement
Article continues below advertisement
Why Asia-Pacific could be the next growth driver
As the chart above shows, Asia has a lower ARPU rate than the United States and Canada. However, the former has more growth potential than the latter owing to its large population. According to the company, user growth was more rapid in geographies with relatively lower ARPU, and it expects that user growth in the future will primarily be concentrated in those regions where ARPU is lower.
During 1Q16, Facebook's ARPU came in at $1.56 for Asia compared to $12.43 in the US and Canada. However, user growth in Asia rose at a much faster rate than in other parts of the world. The number of Facebook users from Asia grew at a rate of 20% YoY compared to 15% YoY growth in global users in 1Q16. Monthly active users (or MAUs) for the Asia-Pacific region stood at 566 million compared to total MAUs of 1.7 billion.
In Asia, India (EPI) remains a major market for Facebook, as it has 142 million users, only below the US in terms of the size of its user base. In order to broaden its reach, Facebook has started testing its enterprise offering called "Facebook at Work" in India, which lets employees connect with co-workers. Facebook, which announced the offering some two months back, is now collaborating with companies like Godrej, Yes Bank, L&T Infotech, RBS (RBS), and others for its initial round of testing.
Earlier, Facebook failed to bring Free Basics to India due to the net neutrality principle, which advocates the "equal treatment of all traffic on the Internet." Google (GOOG) is also trying to grow Internet access in India with its Project Loon.