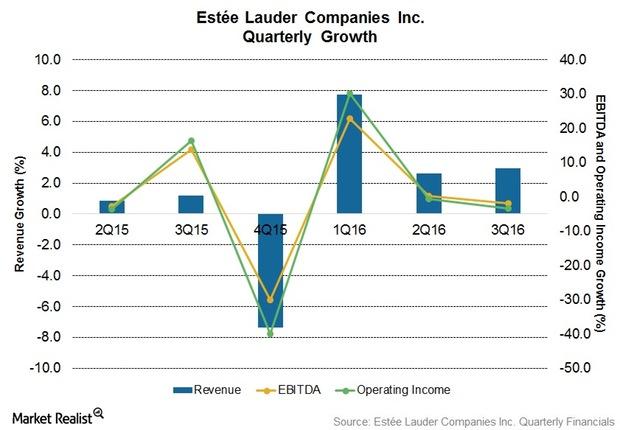 Estée Lauder's Growth Initiative: Leading Beauty Forward
Travel retail growth
Despite difficult economic conditions in Hong Kong, China, and terrorist attacks in Paris, Turkey, and Brussels, Estée Lauder has delivered robust growth driven by its diversified business.
The company's growth engines, investment agility, and strong execution have improved its ability to react to macroeconomic conditions quickly.
Weaker currencies in Brazil and Russia led to a fall in travel, which affected EL's travel sales. However, in Japan, Australia, and Canada, travel retail improved due to an increased number of inbound tourists. In Korea, travel retail is up to the double-digits as the fear of MERS (Middle East respiratory syndrome) has subsided.
Article continues below advertisement
Online and social media
With increasing competition from L'Oréal (LRLCY), Shiseido (SSDOY), and Coty (COTY), Estée Lauder continues to expand its position in the fragrance and makeup segments in Western Europe and emerging markets. EL plans to invest more in its MAC, Bobbi Brown, Tom Ford, and Jo Malone brands to provide the best possible returns to its shareholders and to leverage its accelerating growth.
According to CEO Fabrizio Freda, EL is the largest established player in online prestige beauty. In fiscal 2016, EL expects online sales from its brand and retailer sites to top $1 billion. Its online business and social media channels are scalable, cost effective, and able to cater to specific consumer segments.
In China, EL's online sales accounted for 10% of its sales in fiscal 3Q16. In the United States, EL's online sales accounted for 12% of its sales during the same period.
Leading Beauty Forward
Estée Lauder is launching the Leading Beauty Forward program. This program will help the company to use resources efficiently to invest in brands, cost reductions, and the development of core areas for long-term growth and profitability.
According to Freda, Estée Lauder expects its Leading Beauty Forward program to sustain sales, operating margin, and earnings per share growth beyond the goals set through fiscal 2018.
EL makes up 0.3% of the iShares Russell Top 200 Growth ETF (IWY).[1. Updated as of May 16, 2016]
To learn more about Estée Lauder's business, please read Estée Lauder: A Leading Beauty and Cosmetics Firm. For more industry updates and analysis, you can visit Market Realist's Consumer Products page.