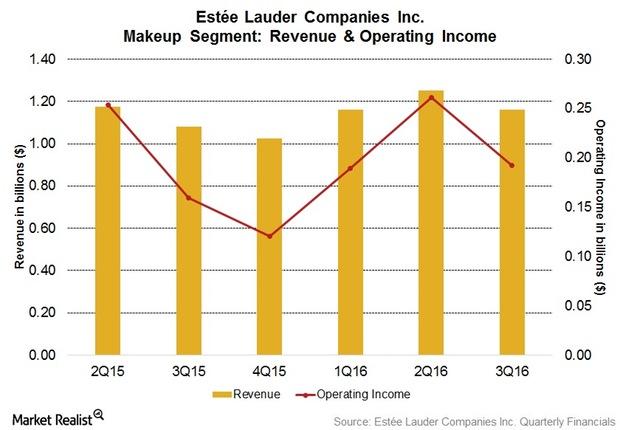 Estée Lauder's Makeup Segment Boosted Its Operating Income
Makeup segment's 3Q16 revenue
Estée Lauder (EL) operates under the following four reportable segments:
makeup
skincare
fragrance
haircare
The makeup segment's net revenue rose 7.3% in reported terms and 11% in constant currency terms to $1.2 billion in fiscal 3Q16. This was the highest rise among all EL's segments.
Comparatively, the makeup segment's net revenue was $1.1 billion in fiscal 3Q15. The segment's year-over-year rise was primarily driven by double-digit growth from its MAC, Smashbox, and Tom Ford brands. The rise was also driven by gains from EL's Bobbi Brown brand.
EL's new product launches including Pure Color Envy and Double Wear, the Estée Edit group of products from its Estée Lauder brand, and the Beyond Perfecting foundation and concealer from its Clinique brand also contributed to its revenue rise.
Article continues below advertisement
Operating income
Operating income for EL's makeup segment rose 20.6% to $0.2 billion in fiscal 3Q16. The rise in operating income was primarily due to strong results from makeup brands including Clinique and Estée Lauder.
Social media interaction
With growing popularity of social media usage among consumers, Estée Lauder, like its peers L'Oréal (LRLCY), Avon (AVP), and Shiseido (SSDOY), is aiming to strengthen its online presence. For example, Estée Lauder provides personal in-store and online lessons, with how-to videos and visuals of makeup transformations to drive consumption.
This focus on social media has helped MAC to interact with consumers on Instagram, which has helped drive sales, according to Estée Lauder's CEO Fabrizio Freda.
To draw new consumers, Estée Lauder continues to collaborate with celebrities such as Selena Gomez and Victoria Beckham for brand penetration, especially on social media.
Prestige channels
In addition to the expansion of its makeup segment in freestanding stores, global department stores, and specialty-multi retailers, Estée Lauder continues to focus on growth across all prestige channels.
For example, luxury makeup brand Tom Ford's fiscal 3Q16 sales rose by more than 50%, while Bobbi Brown's cushion compact doubled sales in Korea, contributing 15% to EL's total Korean business.
EL makes up 1.4% of the PowerShares Dynamic Large Cap Growth ETF (PWB).[1. Updated as of May 6, 2016]