Celgene Continues to Develop New Multiple Myeloma Drugs
Celgene has been working on its immunomodulatory backbone drugs to develop combination therapies for use in treating all lines of multiple myeloma.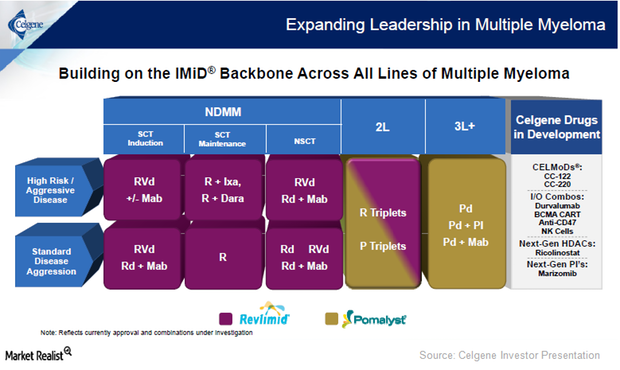 Multiple myeloma therapies
Celgene (CELG) has been working on its immunomodulatory backbone drugs Revlimid and Pomalyst to develop combination therapies that can be used for treating all lines of MM (multiple myeloma). Therapies are also being developed for both aggressive and standard disease progression patients.
These efforts are expected to enable Celgene to dominate the MM space and pose tough competition to peers such as Merck & Co. (MRK), Amgen (AMGN), and Takeda Pharmaceuticals (TKPYY).
The above diagram shows Celgene's existing portfolio of MM regimens as well as the MM combination therapies in the company's research and development pipeline.
Article continues below advertisement
Article continues below advertisement
Other hematology milestones
So far in 2016, Celgene has submitted NDAs (new drug applications) for investigational hematology drugs, including CC-90009 for acute myeloid leukemia and CC-90010 for solid tumors. According to the National Cancer Institute, "Adult acute myeloid leukemia [AML] is a cancer of the blood and bone marrow. This type of cancer usually gets worse quickly if it is not treated."
Additionally, in partnership with Bluebird Bio, Celgene has initiated human testing for the innovative multiple myeloma therapy BB-2121. On April 11, 2016, Celgene announced that it would exercise the option to participate in JunoTherapeutics' hematology-based CD-19 program.
Celgene's strategy involves combining its knowledge and infrastructure in hematology, oncology, and inflammation with those of other prominent healthcare players.
Darzalex launch
The launch of Johnson & Johnson's Darzalex (daratumumab) has boosted the sales of Celgene's Pomalyst. Used mainly as a fourth-line therapy for MM, Darzalex is also being increasingly used in combination therapies with Pomalyst. This has helped to increase the use of Pomalyst as a second- and third-line MM therapy.
These positive trends may also boost the share price of the iShares Russell 1000 ETF (IWB). Celgene makes up about 0.4% of IWB's total portfolio holdings.
In the next article, we'll explore Celgene's strategy for its solid tumor drug Abraxane in 2016.