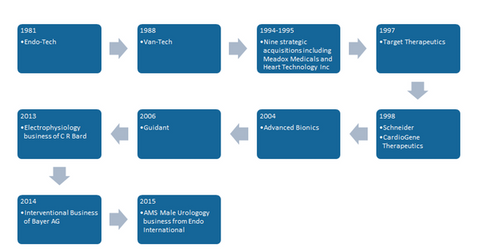 Boston Scientific's Inorganic Growth Strategy
By Sarah Collins

Updated
Overview
Boston Scientific's (BSX) has followed consistent inorganic growth strategy throughout its history and continues to invest in acquisitions when provided with a compelling opportunity. The company's acquisition of Guidant in April 2006 for $27 billion was the biggest acquisition in its history. The following chart lists the key historical acquisitions of Boston Scientific.
Article continues below advertisement
Recent acquisitions
In recent years, Boston Scientific (BSX) has grown significantly through expansion of its product portfolio and geographic reach, as well as the reorganization and cost containment measures. In November 2013, Boston Scientific acquired the electrophysiology business of C R Bard (BCR), which added a complementary portfolio of catheters and other electrophysiology tools, along with a strong commercial team.
In August 2014, the Interventional division of Bayer AG was acquired by Boston Scientific. Key products such as AngioJet Thrombectomy System and Fetch 2 Aspiration Catheter were added to the company's cardiovascular product portfolio.
In April 2015, Boston Scientific expanded its Endoscopy business through the acquisition of Xlumena, which manufactured minimally invasive devices for EUS (endoscopic ultrasound) guided transluminal drainage of targeted areas within the gastrointestinal tract. The acquisition added a leading product line of the Axios stent.
In August 2015, Boston Scientific acquired the AMS male urology portfolio for $1.6 billion in cash and $50 million in a milestone-based payment from Endo International. The acquisition is expected to be accretive and add an acquisition accretion of ~$0.30 to the company's 2016 EPS (earnings per share).
In December 2015, Boston Scientific expanded its Peripheral Intervention business through the acquisition of Celonova Biosciences' Interventional Radiology business.
Medtronic (MDT) and Stryker (SYK) are the other major medical device companies with a strong acquisition strategy. Investors can invest in the iShares Russell Mid-Cap ETF (IWR) for exposure to Boston Scientific (BSX). BSX accounts for ~0.5% of IWR's total holdings.