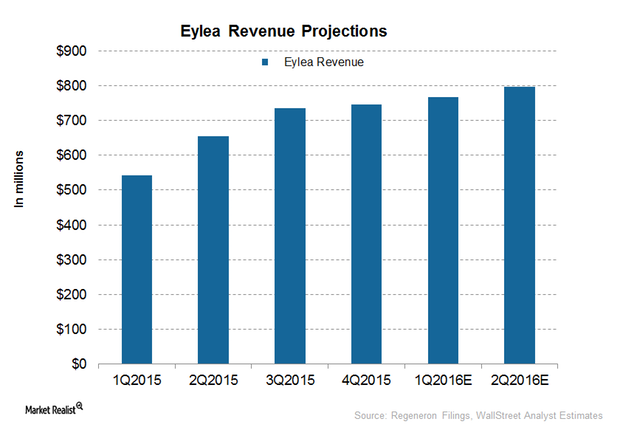 Worst-Case Scenario for Regeneron: What If Eylea Sales Slow Down by 2018?
Eylea, Regeneron's key drug
Regeneron Pharmaceuticals (REGN) depends heavily upon its key drug, Eylea, which recorded global sales of $4.1 billion during fiscal 2015. The drug's US sales in fiscal 2015 stood at $2.7 billion, which represents a 54% rise, whereas non-US sales reached $1.4 billion, translating into an annual jump of 36%. Notably, Regeneron records the US sales of the drug while Bayer HealthCare records Eylea's sales outside of the US.
Article continues below advertisement
Eylea approvals in the US
Below is a breakdown of Eylea's expanded label history and indications in the US:
2011: neovascular age-related macular degeneration (wet AMD)
2012: macular edema following CRVO (central retinal vein occlusion)
3Q14: DME (diabetic macular edema)
4Q14: macular edema following RVO (retinal vein occlusion)
1Q15: diabetic retinopathy in patients with DME
Sales growth expectations from Eylea
Wall Street analysts are expecting Regeneron's sales from Eylea to record $766 million in 1Q16 and $797.5 million in 2Q16. The company expects Eylea's US sales to grow by 20% during 2016 as compared to fiscal 2015. The drug is approaching its peak sales potential of $6 billion sales, after which time the drug's high growth period might be over. After 2016, the drug will likely report only moderate growth.
Eylea competes with Novartis's (NVS) Visudyne, Pfizer's (PFE) Macugen, and Roche's (RHHBY) Lucentis and Avastin. It's a leading anti-VEGF (Vascular endothelial growth factor) therapy for retinal diseases. For more on Eylea's market position, pricing and competition, check out "Eylea Could Help Regeneron Focus on the Eye Therapy Segment."
To gain exposure to Regeneron while avoiding excessive company-specific risks, investors can choose to invest in ETFs like the SPDR S&P 500 ETF (SPY), which holds 0.17% of its total holdings in Regeneron.
Now let's analyze operating expenses and margins.