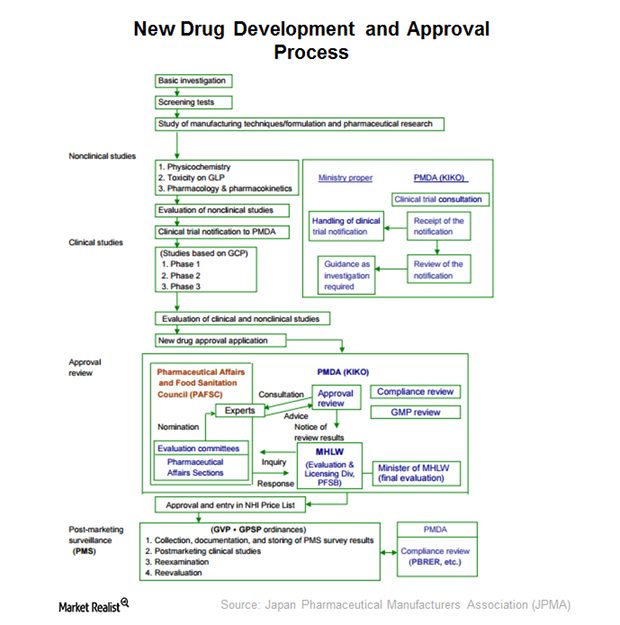 What's the Drug Approval Process in Japan?
By Jillian Dabney

Apr. 18 2016, Published 11:51 a.m. ET
Drug approval process in Japan
The drug approval process in Japan includes a sequence of non-clinical studies, clinical studies followed by approval review, and post-marketing surveillance.
The standard clinical studies include Phase 1, Phase 2, and Phase 3 studies. Along with this traditional drug approval route, there are bridging studies for drug approval.
Once a drug successfully completes all three phases of clinical trial, the manufacturer must file the New Drug Application (or NDA) with the Pharmaceuticals and Medical Devices Agency (or PMDA). After review and evaluation, the PMDA provides a recommendation and forwards the application for approval to the Ministry of Health, Labour and Welfare (or MHLW). MHLW is the regulatory authority that issues approval or rejection on the NDAs.
Once a drug wins approval from MHLW, it enters in the NHI list for pricing negotiations. The standard drug review process takes ~12 months, whereas priority review takes nine months.
Article continues below advertisement
ETFs with exposure to Japanese equities
The WisdomTree Japan Hedged Equity (or DXJ) invests exclusively in Japanese equities. It focuses on Japanese firms that are export-oriented and regularly pay dividends. The fund invests 2.9% of its holdings in Takeda Pharmaceutical (TKPYY). Astellas Pharma (ALPMY) accounts for 1.4%, whereas Daiichi Sankyo constitutes 0.96% of the fund's total assets.
Certain funds such as the iShares S&P Global Healthcare ETF (IXJ) offer ~93% weight in healthcare equities. The fund invests 7.1% and 4.4% of its holdings in Johnson & Johnson (JNJ) and Merck (MRK), respectively.
In the next part of the series, we'll discuss a different non-traditional drug approval approach in Japan, the bridging study.