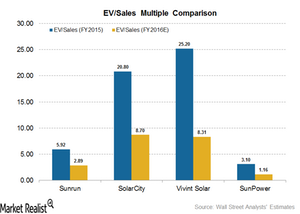 Understanding SolarCity's Valuation Compared to Peers: Who's Trading at a Discount?
Relative valuation
A company's relative valuation helps us compare its value relative to peer values. Specifically, the enterprise value-to-sales ratio represents the value created per dollar of sales made by a company during one year. A higher EV-to-sales (enterprise value-to-sales) ratio thus implies that the company in question is overvalued compared to peers.
As the downstream solar industry is still in its growth phase, operating losses are common among incumbent players. The EV-to-sales ratio is thus useful in comparing the value created from the operations of one company to that of another. But these multiples have to be considered with caution, because a higher EV-to-sales ratio also implies a higher value addition for the company from higher sales in the future.
Among the downstream solar (TAN) companies, SolarCity (SCTY) has the highest EV-to-sales value of 8.70x, which is closely followed by Vivint Solar (VSLR) at 8.31x. Analysts expect that Sunrun's (RUN) EV-to-sales ratio will be 2.89x in fiscal 2016, as compared to its ratio of 5.92x in fiscal 2015.
However, SunPower's (SPWR) EV-to-sales ratio is anticipated to be around 1.16x in fiscal 2016, as compared to 3.10x in fiscal 2015. This implies higher revenue on a year-over-year basis.
Article continues below advertisement
xAnalyst ratings of SolarCity
Notably, 11 out of 21 analysts covering SolarCity have rated the stock a "buy." Nine analysts have rated the stock a "hold," and one analyst recommends a "sell" for the stock.
According to analyst estimates, the consensus 12-month target price of SCTY was $40.59 as of April 11, 2016. If we note that the stock's closing price was $28.28 on April 12, 2016, we see that the stock has a return potential of about 43.5%, according to analyst estimates.
Notable recommendations
Among the 21 firms covering the SolarCity's stock, Morgan Stanley has dubbed the stock "overweight," with a price target of $52 assigned on March 1, 2016. However, Goldman Sachs (GS) maintains a "neutral" rating on the stock, with a price target of $27 assigned on February 10, 2016.
For related analysis, check out Market Realist's Energy and Power page.