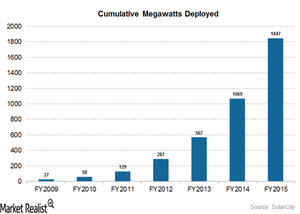 Understanding SolarCity's Business Strategy
Capturing market share
The downstream solar (TAN) business is all about capturing market share. Because solar lease contracts and PPAs (power purchase agreements) last typically for 20 years, a company with higher market share in the mature stage will make more money than a company with less market share. Moreover, operating expenses decrease as the company reaches the mature stage, thereby increasing margins.
Continual and consistent business expansion is crucial for downstream solar companies like SolarCity (SCTY), Sunrun (RUN), Vivint Solar (VSLR), Sungevity, and SolarPower (SPWR). SolarCity intends to expand its presence through strategic partnerships with homebuilders and industry leaders. For instance, SolarCity's agreements with Home Depot (HD), Best Buy (BBY), and Honda have helped it expand its foothold in multiple markets.
Article continues below advertisement
Cost reduction
SolarCity intends to lower its installation costs through strategic acquisitions, by leveraging the company's buying power with suppliers, through efficient supply chain management, and through technological improvements in product and service offerings. For instance, SolarCity's Silevo acquisition helped SolarCity secure the supply of high energy output and low-cost solar panels. Its acquisition of Zep Solar, a solar panel mounting system developer, helped it vertically integrate its business.
SolarCity's total installation cost per watt for 4Q15 came in at $2.71. The company aims to reduce the installation cost per watt to $2.5 by the end of 2017.
SolarCity's financial strategy
SolarCity's assets generate recurring cash flows over the term of the solar lease or solar PPAs. SolarCity aims to monetize these assets through investment funds and asset securitization programs. The company has also raised low-cost capital through the issue of solar bonds.
Now let's explore whether SolarCity can continue to sustain its current growth rate.