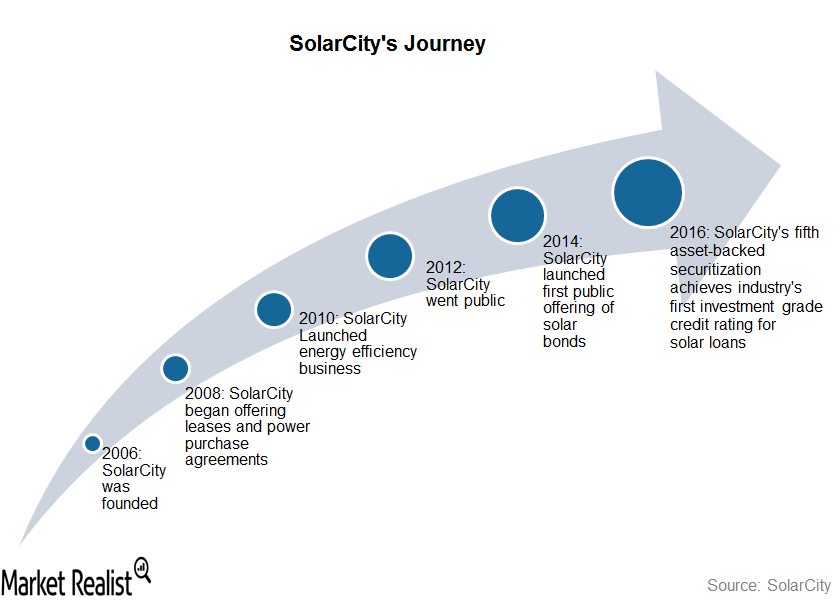 SolarCity: A Quick Trip down Memory Lane
Global solar power industry
In 2015, Market Realist published a comprehensive overview of the global solar power industry. We looked at the history of solar power (TAN), analyzed its applications, and took a comprehensive overview of the industry. We also looked at key markets and the potential for solar energy in the coming decades—as forecasted by reputed sources like the IEA (International Energy Agency) and the European Photovoltaics Industry Association.
If you haven't read our industry overview, you might want to take a look after reading this series for an even better understanding of the industry.
Article continues below advertisement
A brief history of SolarCity
SolarCity (SCTY) was founded in 2006. Initially, the company was focused mainly on selling, financing, and installing solar energy systems for residential and commercial customers. In 2008, the company began offering leases and power purchase agreements. In 2010, SolarCity launched its energy efficiency business, offering energy efficiency upgrades and measurement services. The company raised about $92 million through the initial public offering of its stock in 2012.
To fund the expansion of its business, SolarCity launched the first public offering of solar bonds in 2014. In 2016, SolarCity's fifth asset-backed securitization scheme received the industry's first investment-grade credit rating for a solar loan from Standard & Poors and Kroll Bond rating agencies.
Series overview
In this series, we'll do a comprehensive analysis of SolarCity's (SCTY) business model, its key plans, and its services. We'll explore how the company has expanded its business, and we'll evaluate key operational metrics and financial position factors crucial to investors. After reading this series, you'll understand what sets SolarCity apart from its competitors in the residential solar business, including Vivint Solar (VSLR), Sunrun (RUN), and SunPower (SPWR). We'll wrap up this series with a company outlook and a valuation discussion—both now and going forward.
Let's begin with SolarCity's revenue strategies.