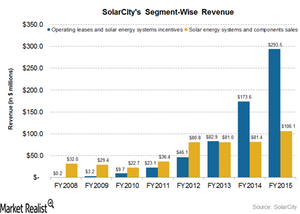 How Does SolarCity Make Money?
SolarCity's revenue generation model
SolarCity's (SCTY) business model is divided into the following two revenue segments:
Operating Leases and Solar Energy Systems Incentives
Solar Energy Systems and Component Sales
These two segments combined span the complete value chain of the residential solar service model.
Article continues below advertisement
Operating Leases and Solar Energy System Incentives
Revenue under this segment primarily includes proceeds from customer agreements and proceeds from solar energy incentives offered by state and local governments. Revenue from remote monitoring services, which are bundled with customer agreements, is also included in this segment.
Customer agreements can be of two types:
solar lease agreements
PPA (power purchase agreements)
In a solar lease agreement, the company receives a fixed monthly payment from the customers for using the solar systems installed on their premises. In a PPA, it receives a fixed pay per kWh (kilowatt hour) of power generated by the system over the term of the agreement. Typically, the tenure of the solar leases and PPA ranges between ten and 20 years.
Solar Energy Systems and Component Sales
Revenue under this segment mainly includes proceeds from the direct sale of solar (TAN) energy systems to cash paying customers, revenue from solar energy systems financed under SolarCity's MyPower contracts, revenue generated from the fulfillment of outstanding orders of Zep Solar and Silevo products, and revenue from energy-related products and services.
Revenue from the sale of solar energy systems is recognized upon installation of a sold product, which is further subject to inspection clearance from the utility or the authority having jurisdiction. Revenue from energy-related services is recognized when the service is complete.
We should note that the extension of investment tax credits for investments in solar energy has been key for the rapid expansion of downstream solar companies like Sunrun (RUN), Vivint Solar (VSLR), SolarCity (SCTY), and SunPower (SPWR).
In the next part, we'll discuss the various tax credits, incentives, and rebates available for owning eligible solar products.