Inside Quest Diagnostics' Growth Restoration Strategy
Quest Diagnostics has been focusing on developing sales and marketing expertise, increasing esoteric testing, and building relationships with hospitals.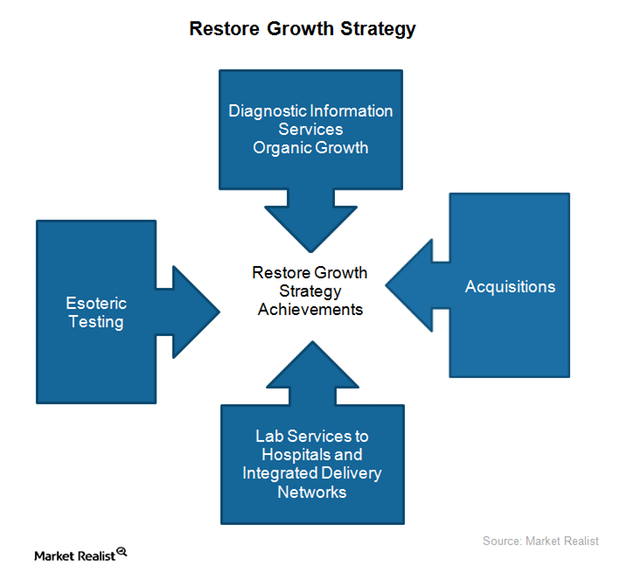 Growth Restoration
As a part of its growth strategy for 2016, Quest Diagnostics (DGX) has been focusing on developing sales and marketing expertise, increasing esoteric testing, and building relationships with hospitals and independent delivery networks. The company is also targeting long-term opportunities such as precision medicine, information assets, extended care settings, and international market expansion for restoring future growth.
This strategy is expected to enable DGX to give strong competition to peers like Opko Health (OPK), Laboratory Corporation of America Holdings (LH), and IDEXX Laboratories (IDXX).
Article continues below advertisement
Article continues below advertisement
Diagnostic Information Services growth
Quest Diagnostics reported strong YoY (year-over-year) organic growth for its Diagnostic Information Services segmental revenues in 2015 and 1Q16. Its increased focus on esoteric and gene-based testing, testing for prescription drug monitoring, and relationships with multiple hospitals are expected to be key drivers of the segment's strong financial performance in 2016.
Esoteric Testing and Precision Medicine
According to Qualisys Diagnostics, "Esoteric testing is the analysis of unique, 'niche' assays not routinely performed in clinical laboratories as they often require specialized personnel." Quest Diagnostics' focus on esoteric testing was highlighted on April 14, 2016, when the company expanded its hepatitis C testing capabilities.
Quest Diagnostics has launched a new test to enable physicians to predict if patients are resistant to certain HCV (hepatitis C) drugs, including those launched by Merck and Bristol-Myers Squibb. This test will further empower physicians to determine the right drug as well as its dosage and duration, further strengthening the company's position in the precision medicine market. Additionally, the company also plans to introduce two tests related to the Zika virus that are currently awaiting approval from the Food and Drug Administration.
In 2015, Quest Diagnostics also introduced innovative testing capabilities for non-small cell lung cancer and melanoma, which are also considered to be major achievements of the company's restore growth strategy.
Article continues below advertisement
Acquisitions
On November 10, 2015, Quest Diagnostics entered into an agreement to acquire Hartford Healthcare's Outreach laboratory services business. According to Hartford Healthcare, "Outreach lab services are provided to local physicians and patients separate from hospital inpatient or outpatient care." After the integration, this acquisition is expected to boost Quest Diagnostics' financial metrics in 2016.
Lab Services
Quest Diagnostics has also focused on providing professional laboratory services to major hospitals and integrated delivery networks in 2016. Professional labs are a major component of the company's organic growth strategy in 2016.
If Quest Diagnostics succeeds in effectively implementing its restore growth strategy in future years, it could boost the company's share price as well as the First Trust Health Care AlphaDEX Fund (FXH). Quest Diagnostics makes up about 2.3% of FXH's total portfolio holdings.
In the next part, we'll look into Quest Diagnostics' business strategy for 2016.